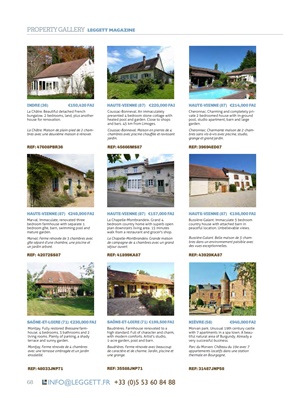 68
PROPERTY GALLERY LEGGETT MAGAZINE
INDRE (36) €150,420 FAI
La Châtre. Beautiful detached French
bungalow. 2 bedrooms, land, plus another
house for renovation.
La Châtre. Maison de plain-pied de 2 chambres avec une deuxième maison à rénover.
REF: 47608PBR36
HAUTE-VIENNE (87) €220,000 FAI
Coussac-Bonneval. An immaculately
presented 4 bedroom stone cottage with
heated pool and garden. Close to shops
and bars. 45 km from Limoges.
Coussac-Bonneval. Maison en pierres de 4
chambres avec piscine chauffée et ravissant
jardin.
REF: 45666MS87
HAUTE-VIENNE (87) €214,000 FAI
Cheronnac. Charming and completely private 2 bedroomed
house with in-ground
pool, studio apartment, barn and large
garden.
Cheronnac. Charmante maison de 2 chambres sans vis-à-vis avec piscine, studio,
grange et grand jardin.
REF: 39694ED87
HAUTE-VIENNE (87) €249,900 FAI
Marval. Immaculate, renovated three
bedroom farmhouse with separate 1
bedroom gîte, barn, swimming pool and
mature garden.
Marval. Ferme rénovée de 3 chambres avec
gîte séparé d'une chambre, une piscine et
un jardin arboré.
REF: 42072SS87
HAUTE-VIENNE (87) €157,000 FAI
La Chapelle-Montbrandeix. Grand 4
bedroom country home with superb open
plan downstairs living area. 15 minutes
walk from a restaurant and grocer's shop.
La Chapelle-Montbrandeix. Grande maison
de campagne de 4 chambres avec un grand
séjour ouvert.
REF: 41899KA87
HAUTE-VIENNE (87) €198,000 FAI
Bussière-Galant. Immaculate 3 bedroom
country house with attached barn in
peaceful location. Unbelievable views.
Bussière-Galant. Belle maison de 3 chambres dans un environnement paisible avec
des vues exceptionnelles.
REF: 43929KA87
SAÔNE-ET-LOIRE (71) €230,000 FAI
Montjay. Fully restored Bressane farmhouse.
4 bedrooms, 3 bathrooms and 2
living rooms. Plenty of parking, a shady
terrace and sunny garden.
Montjay. Ferme rénovée de 4 chambres
avec une terrasse ombragée et un jardin
ensoleillé.
REF: 48033JNP71
SAÔNE-ET-LOIRE (71) €199,500 FAI
Baudrières. Farmhouse renovated to a
high standard. Full of character and charm,
with modern comforts. Artist's studio,
1-acre garden, pool and barn.
Baudrières. Ferme rénovée avec beaucoup
de caractère et de charme. Jardin, piscine et
une grange.
REF: 35588JNP71
NIÈVRE (58) €940,000 FAI
Morvan park. Unusual 19th century castle
with 7 apartments in a spa town. A beautiful natural
area of Burgundy. Already a
very successful business.
Parc du Morvan. Château du 19e avec 7
appartements locatifs dans une station
thermale en Bourgogne.
REF: 31487JNP58
info@leggett.frttp://leggett.fr" target="_blank" title="Visit leggett.fr">leggett.fr +33 (0)5 53 60 84 88