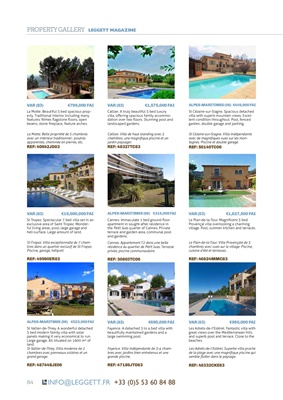 84
VAR (83) €799,000 FAI
La Motte. Beautiful 5 bed spacious property.
Traditional interior including many
features: Nîmes flagstone floors, open
beams, stone fireplace, feature arches.
La Motte. Belle propriété de 5 chambres
avec un intérieur traditionnel : poutres
apparentes, cheminée en pierres, etc.
REF: 40642JD83
VAR (83) €1,575,000 FAI
Callian. A truly beautiful 5 bed luxury
villa, offering spacious family accommodation over
two floors. Stunning pool and
landscaped gardens.
Callian. Villa de haut standing avec 5
chambres, une magnifique piscine et un
jardin paysager.
REF: 48327TC83
ALPES-MARITIMES (06) €449,000 FAI
St Cézaire-sur-Siagne. Spacious detached
villa with superb mountain views. Excellent condition
throughout. Pool, fenced
garden, double garage and parking.
St Cézaire-sur-Siagne. Villa indépendante
avec de magnifiques vues sur les montagnes.
Piscine et double garage.
REF: 50140TC06
VAR (83) €19,000,000 FAI
St Tropez. Spectacular 7 bed villa set in an
exclusive area of Saint Tropez. Wonderful living areas,
pool, large garage and
heli-surface. Large amount of land.
St-Tropez. Villa exceptionnelle de 7 chambres dans un quartier exclusif de St-Tropez.
Piscine, garage, héliport.
REF: 49990ER83
ALPES-MARITIMES (06) €315,000 FAI
Cannes. Immaculate 1 bed ground floor
apartment in sought-after residence in
the Petit Juas quarter of Cannes. Private
terrace and garden area, communal pool
and gardens.
Cannes. Appartement T2 dans une belle
résidence du quartier de Petit Juas. Terrasse
privée, piscine communautaire.
REF: 30803TC06
VAR (83) €1,627,500 FAI
Le Plan-de-la-Tour. Magnificent 3 bed
Provençal villa overlooking a charming
village. Pool, summer kitchen and terraces.
Le Plan-de-la-Tour. Villa Provençale de 3
chambres avec vues sur le village. Piscine,
cuisine d'été et terrasses.
REF: 46824MMC83
ALPES-MARITMES (06) €523,950 FAI
St Vallier-de-Thiey. A wonderful detached
3 bed modern family villa with solar
panels making it very economical to run.
Large garage. All situated on 1600 m² of
land.
St Vallier-de-Thiey. Villa moderne de 2
chambres avec panneaux solaires et un
grand garage.
REF: 48744SJE06
VAR (83) €695,000 FAI
Fayence. A detached 3 to 4 bed villa with
beautifully maintained gardens and a
large swimming pool.
Fayence. Villa indépendante de 3-4 chambres avec jardins bien entretenus et une
grande piscine.
REF: 47189JTO83
VAR (83) €950,000 FAI
Les Adrets-de-l'Estérel. Fantastic villa with
great views over the Mediterranean hills
and superb pool and terrace. Close to the
beaches.
Les-Adrets-de-l'Estérel. Superbe villa proche
de la plage avec une magnifique piscine qui
semble flotter dans le paysage.
REF: 48332CKE83
PROPERTY GALLERY LEGGETT MAGAZINE
info@leggett.frttp://leggett.fr" target="_blank" title="Visit leggett.fr">leggett.fr +33 (0)5 53 60 84 88