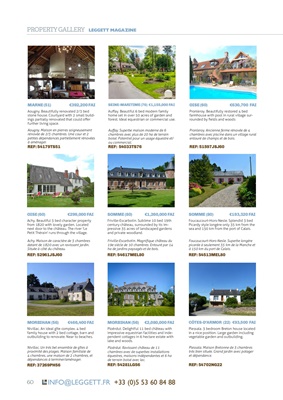 60
PROPERTY GALLERY LEGGETT MAGAZINE
info@leggett.frttp://leggett.fr" target="_blank" title="Visit leggett.fr">leggett.fr +33 (0)5 53 60 84 88
MARNE (51) €392,200 FAI
Aougny. Beautifully renovated 2/3 bed
stone house. Courtyard with 2 small buildings partially renovated
that could offer
further living space.
Aougny. Maison en pierres soigneusement
rénovée de 2/3 chambres. Une cour et 2
petites dépendances partiellement rénovées
à aménager.
REF: 54179TS51
SEINE-MARITIME (76) €1,155,000 FAI
Auffay. Beautiful 6 bed modern family
home set in over 50 acres of garden and
forest. Ideal equestrian or commercial use.
Auffay. Superbe maison moderne de 6
chambres avec plus de 20 ha de terrain
boisé. Potentiel pour un usage équestre et/
ou commercial.
REF: 54033TS76
OISE (60) €630,700 FAI
Pronleroy. Beautifully restored 4 bed
farmhouse with pool in rural village surrounded
by fields and woods
Pronleroy. Ancienne ferme rénovée de 4
chambres avec piscine dans un village rural
entouré de champs et de bois.
REF: 51597JSJ60
60
OISE (60) €299,000 FAI
Achy. Beautiful 3 bed character property
from 1820 with lovely garden. Located
next door to the château. The river 'Le
Petit Thérain' runs through the village.
Achy. Maison de caractère de 3 chambres
datant de 1820 avec un ravissant jardin.
Située à côté du château.
REF: 52961JSJ60
SOMME (80) €1,260,000 FAI
Friville-Escarbotin. Sublime 10 bed 19th
century château, surrounded by its impressive
35 acres of landscaped gardens
and private woodland.
Friville-Escarbotin. Magnifique château du
19e siècle de 10 chambres. Entouré par 14
ha de jardins paysagés et de bois.
REF: 54617MEL80
SOMME (80) €193,320 FAI
Foucaucourt-Hors-Nesle. Splendid 3 bed
Picardy style longère only 35 km from the
sea and 150 km from the port of Calais.
Foucaucourt-Hors-Nesle. Superbe longère
picarde à seulement 35 km de la Manche et
à 150 km du port de Calais.
REF: 54513MEL80
MORBIHAN (56) €466,400 FAI
Nivillac. An ideal gîte complex. 4 bed
family house with 2 bed cottage, barn and
outbuilding to renovate. Near to beaches.
Nivillac. Un très bel ensemble de gîtes à
proximité des plages. Maison familiale de
4 chambres, une maison de 2 chambres, et
dépendances à terminer/aménager.
REF: 37269PH56
MORBIHAN (56) €2,080,000 FAI
Ploërdut. Delightful 11 bed château with
impressive equestrian facilities and independent cottages
in 6 hectare estate with
lake and woods.
Ploërdut. Ravissant château de 11
chambres avec de superbes installations
équestres, maisons indépendantes et 6 ha
de terrain boisé avec lac.
REF: 54281LG56
CÔTES-D'ARMOR (22) €93,500 FAI
Plessala. 3 bedroom Breton house located
in a nice position. Large garden including
vegetable garden and outbuilding.
Plessala. Maison Bretonne de 3 chambres
très bien située. Grand info@leggett.frager
et dépendance.
REF: 54702NG22
INFO@leggett.fr +33 (0)5 53 60 84 88