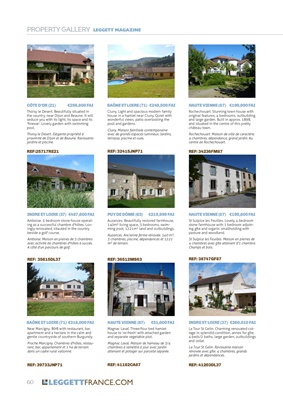 60
PROPERTY GALLERY LEGGETT MAGAZINE
CÔTE D'OR (21) €256,800 FAI
Thoisy le Desert. Beautifully situated in
the country, near Dijon and Beaune. It will
seduce you with its light, its space and its
'finesse'. Lovely garden with swimming
pool.
Thoisy le Desert. Elégante propriété à
proximité de Dijon et de Beaune. Ravissants
jardins et piscine.
REF:25717RE21
SAÔNE ET LOIRE (71) €249,500 FAI
Cluny. Light and spacious modern family
house in a hamlet near Cluny. Quiet with
wonderful views, patio overlooking the
pool and gardens.
Cluny. Maison familiale contemporaine
avec de grands espaces lumineux. Jardins,
terrasse, piscine et vues.
REF: 32415JNP71
HAUTE VIENNE (87) €199,990 FAI
Rochechouart. Stunning town house with
original features, 4 bedrooms, outbuilding
and large garden. Built in approx. 1898,
and situated in the centre of this pretty
château town.
Rochechouart. Maison de ville de caractère.
4 chambres, dépendance, grand jardin. Au
centre de Rochechouart.
REF: 34236FM87
INDRE ET LOIRE (37) €487,600 FAI
Amboise. 5 bedroom stone house operating as a successful
chambre d'hôtes. Lovingly renovated,
sitauted in the country
beside a golf course.
Amboise. Maison en pierres de 5 chambres
avec activité de chambres d'hôtes à succès.
A côté d'un parcours de golf.
REF: 35615DL37
PUY DE DÔME (63) €219,999 FAI
Auzances. Beautifully restored farmhouse,
140m² living space, 3 bedrooms, swimming pool, 1221m² land and outbuildings.
Auzances. Ancienne ferme rénovée. 140 m²,
3 chambres, piscine, dépendances et 1221
m² de terrain.
REF: 36512MS63
HAUTE VIENNE (87) €199,800 FAI
St Sulpice les Feuilles. Lovely 4 bedroom
stone farmhouse with 1 bedroom adjoining gîte and organic
smallholding with
pasture and woodland.
St Sulpice les Feuilles. Maison en pierres de
4 chambres avec gîte attenant d'1 chambre.
Champs et bois.
REF: 38747GF87
SAÔNE ET LOIRE (71) €318,000 FAI
Near Marcigny. B&B with restaurant, bar,
apartment and a hectare in the calm and
gentle countryside of southern Burgundy.
Proche Marcigny. Chambres d'hôtes, restaurant,
bar, appartement et 1 ha de terrain
dans un cadre rural vallonné.
REF: 39733JNP71
HAUTE VIENNE (87) €51,000 FAI
Magnac Laval. Three/four bed hamlet
house to 're-fresh' with attached garden
and separate vegetable plot.
Magnac Laval. Maison de hameau de 3/4
chambres à remettre à jour avec jardin
attenant et potager sur parcelle séparée.
REF: 41162CA87
INDRE ET LOIRE (37) €260.010 FAI
La Tour St Gelin. Charming renovated cottage
in splendid condition, annex for gîte,
4 beds/2 baths, large garden, outbuildings
and cellar.
La Tour St Gelin. Ravissante maison
rénovée avec gîte. 4 chambres, grands
jardins et dépendances.
REF: 41203DL37