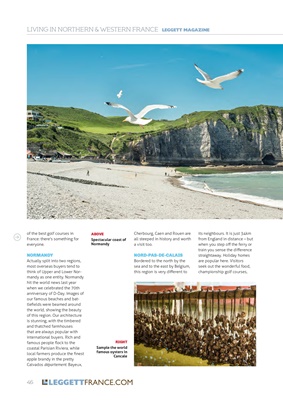 ABOVE
Spectacular coast of
Normandy
RIGHT
Sample the world
famous oysters in
Cancale
LIVING IN NORTHERN & WESTERN FRANCE LEGGETT MAGAZINE
of the best golf courses in
France: there's something for
everyone.
NORMANDY
Actually split into two regions,
most overseas buyers tend to
think of Upper and Lower Normandy as one entity.
Normandy
hit the world news last year
when we celebrated the 70th
anniversary of D-Day. Images of
our famous beaches and battlefields
were beamed around
the world, showing the beauty
of this region. Our architecture
is stunning, with the timbered
and thatched farmhouses
that are always popular with
international buyers. Rich and
famous people flock to the
coastal Parisian Riviera, while
local farmers produce the finest
apple brandy in the pretty
Calvados département. Bayeux,
Cherbourg, Caen and Rouen are
all steeped in history and worth
a visit too.
NORD-PAS-DE-CALAIS
Bordered to the north by the
sea and to the east by Belgium,
this region is very different to
its neighbours. It is just 34km
from England in distance - but
when you step off the ferry or
train you sense the difference
straightaway. Holiday homes
are popular here. Visitors
seek out the wonderful food,
championship golf courses,