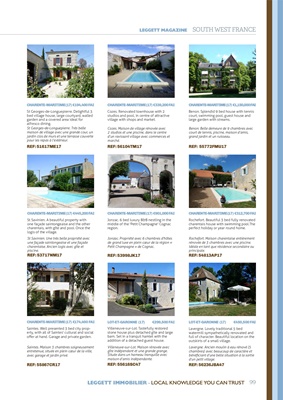 99
LOT-ET-GARONNE (17) €299,500 FAI
Villeneuve-sur-Lot. Tastefully restored
stone house plus detached gÎte and large
barn. Set in a tranquil hamlet with the
addition of a detached guest house.
Villeneuve-sur-Lot. Maison rénovée avec
gîte indépendant et une grande grange.
Située dans un hameau tranquille avec
maison d'amis indépendante.
REF: 55616SC47
CHARENTE-MARITIME (17) €194,400 FAI
St Georges-de-Longuepierre. Delightful 3
bed village house, large courtyard, walled
garden and a covered area ideal for
alfresco dining.
St Georges-de-Longuepierre. Très belle
maison de village avec une grande cour, un
jardin clos de murs et une terrasse couverte
pour les repas à l'extérieur.
REF: 51617ME17
CHARENTE-MARITIME (17) €339,200 FAI
Cozes. Renovated townhouse with 2
studios and pool, in centre of attractive
village with shops and market.
Cozes. Maison de village rénovée avec
2 studios et une piscine, dans le centre
d'un ravissant village avec commerces et
marché.
REF: 56104TM17
CHARENTE-MARITIME (17) €1,150,000 FAI
Benon. Splendid 9 bed house with tennis
court, swimming pool, guest house and
large garden with streams.
Benon. Belle demeure de 9 chambres avec
court de tennis, piscine, maison d'amis,
grand jardin et un ruisseau.
REF: 55772FMU17
CHARENTE-MARITIME (17) €445,200 FAI
St Savinien. A beautiful property with
one faÇade saintongeaise and the other
charentais, with gîte and pool. Once the
logis of the village.
St Savinien. Une très belle propriété avec
une façade saintongeaise et une façade
charentaise. Ancien logis avec gîte et
piscine.
REF: 53717NM17
CHARENTE-MARITIME (17) €901,000 FAI
Jonzac. 6 bed luxury B&B nestling in the
middle of the 'Petit Champagne' Cognac
region.
Jonzac. Propriété avec 6 chambres d'hôtes
de grand luxe en plein cœur de la région «
Petit Champagne » de Cognac.
REF: 53998JK17
LOT-ET-GARONNE (17) €450,500 FAI
Lavergne. Lovely traditional 5 bed
watermill sympathetically renovated and
full of character. Beautiful location on the
outskirts of a small village.
Lavergne. Ancien moulin à eau rénové (5
chambres) avec beaucoup de caractère et
bénéficiant d'une belle situation à la sortie
d'un petit village.
REF: 56236JBA47
CHARENTE-MARITIME (17) €312,700 FAI
Rochefort. Beautiful 3 bed fully renovated
charentais house with swimming pool.the
perfect holiday or year round home.
Rochefort. Maison charentaise entièrement
rénovée de 3 chambres avec une piscine.
Idéale en tant que résidence secondaire ou
principale.
REF: 54813AP17
CHARENTE-MARITIME (17) €174,400 FAI
Saintes. Well presented 3 bed city property,
with all of Saintes' cultural and social
offer at hand. Garage and private garden.
Saintes. Maison 3 chambres soigneusement
entretenue, située en plein cœur de la ville,
avec garage et jardin privé.
REF: 55867CR17
LEGGETT IMMOBILIER - LOCAL KNOWLEDGE YOU CAN TRUST
LEGGETT MAGAZINE SOUTH WEST FRANCE