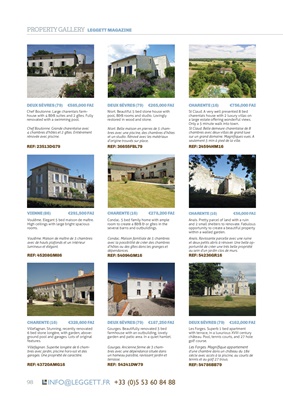 98
PROPERTY GALLERY LEGGETT MAGAZINE
DEUX SÈVRES (79) €585,000 FAI
Chef Boutonne. Large charentais farmhouse with 4 B&B suites and 2 gÎtes.
Fully
renovated with a swimming pool.
Chef Boutonne. Grande charentaise avec
4 chambres d'hôtes et 2 gîtes. Entièrement
rénovée avec piscine.
REF: 23513DG79
DEUX SÈVRES (79) €265,000 FAI
Niort. Beautiful 5 bed stone house with
pool, B&B rooms and studio. Lovingly
restored in wood and stone.
Niort. Belle maison en pierres de 5 chambres avec une piscine, des chambres d'hôtes
et un studio. Rénové avec les matériaux
d'origine trouvés sur place.
REF: 36655FBL79
CHARENTE (16) €756,000 FAI
St Claud. A very well presented 8 bed
charentais house with 2 luxury villas on
a large estate offering wonderful views.
Only a 5 minute walk into town.
St Claud. Belle demeure charentaise de 8
chambres avec deux villas de grand luxe
sur un grand domaine. Magnifiques vues. A
seulement 5 min à pied de la ville.
REF: 24594HM16
VIENNE (86) €291,500 FAI
Voulême. Elegant 5 bed maison de maître.
High ceilings with large bright spacious
rooms.
Voulême. Maison de maître de 5 chambres
avec de hauts plafonds et un intérieur
lumineux et élégant.
REF: 45208GM86
CHARENTE (16) €278,200 FAI
Condac. 5 bed family home with ample
room to create a B&B & or gÎtes in the
several barns and outbuildings.
Condac. Maison familiale de 5 chambres
avec la possibilité de créer des chambres
d'hôtes ou des gîtes dans les granges et
dépendances.
REF: 54094GM16
CHARENTE (16) €56,000 FAI
Anais. Pretty parcel of land with a ruin
and 2 small shelters to renovate. Fabulous
opportunity to create a beautiful property
within a walled garden.
Anais. Ravissante parcelle avec une ruine
et deux petits abris à rénover. Une belle opportunité de créer une très belle
propriété
au sein d'un jardin clos de murs.
REF: 54236GR16
CHARENTE (16) €328,600 FAI
Villefagnan. Stunning, recently renovated
6 bed stone longère, with garden, aboveground
pool and garages. Lots of original
features.
Villefagnan. Superbe longère de 6 chambres avec jardin, piscine hors-sol et des
garages. Une propriété de caractère.
REF: 43720AMG16
DEUX SÈVRES (79) €187,250 FAI
Gourges. Beautifully renovated 3 bed
farmhouse with an outbuilding, lovely
garden and patio area. In a quiet hamlet.
Gourges. Ancienne ferme de 3 chambres avec une dépendance située dans
un hameau paisible, ravissant jardin et
terrasse.
REF: 54241DW79
DEUX SÈVRES (79) €162,000 FAI
Les Forges. Superb 1 bed apartment
with terrace, in a luxurious XVIII century
château. Pool, tennis courts, and 27 hole
golf course.
Les Forges. Magnifique appartement
d'une chambre dans un château du 18e
siècle avec accès à la piscine, au courts de
tennis et au golf 27 trous.
REF: 54786BB79
info@leggett.frttp://leggett.fr" target="_blank" title="Visit leggett.fr">leggett.fr +33 (0)5 53 60 84 88