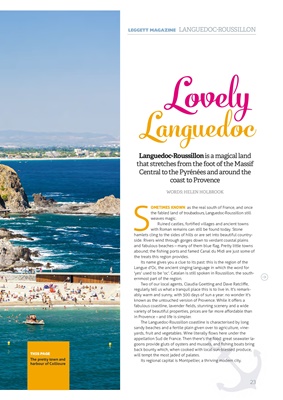 23
Languedoc-Roussillon is a magical land
that stretches from the foot of the Massif
Central to the Pyrénées and around the
coast to Provence
S
OMETIMES KNOWN as the real south of France, and once
the fabled land of troubadours, Languedoc-Roussillon still
weaves magic.
Ruined castles, fortified villages and ancient towns
with Roman remains can still be found today. Stone
hamlets cling to the sides of hills or are set into beautiful countryside.
Rivers wind through gorges down to verdant coastal plains
and fabulous beaches - many of them blue flag. Pretty little towns
abound; the fishing ports and famed Canal du Midi are just some of
the treats this region provides.
Its name gives you a clue to its past: this is the region of the
Langue d'Oc, the ancient singing language in which the word for
'yes' used to be 'oc'. Catalan is still spoken in Roussillon, the southernmost part of
the region.
Two of our local agents, Claudia Goetting and Dave Ratcliffe,
regularly tell us what a tranquil place this is to live in. It's remarkably warm and sunny,
with 300 days of sun a year: no wonder it's
known as the untouched version of Provence. While it offers a
fabulous coastline, lavender fields, stunning scenery and a wide
variety of beautiful properties, prices are far more affordable than
in Provence - and life is simpler.
The Languedoc-Roussillon coastline is characterised by long
sandy beaches and a fertile plain given over to agriculture, vineyards,
fruit and vegetables. Wine literally flows here under the
appellation Sud de France. Then there's the food: great seawater lagoons
provide gluts of oysters and mussels, and fishing boats bring
back bounty which, when cooked with local sun-blessed produce,
will tempt the most jaded of palates.
Its regional capital is Montpellier, a thriving modern city.
THIS PAGE
The pretty town and
harbour of Collioure
LEGGETT MAGAZINE LANGUEDOC-ROUSSILLON
WORDS: HELEN HOLBROOK
Lovely Languedoc