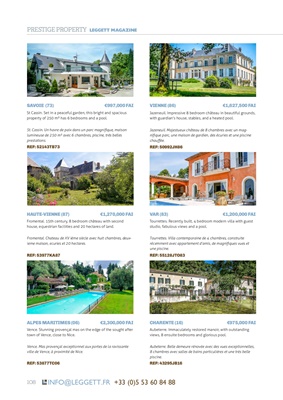 108
PRESTIGE PROPERTY LEGGETT MAGAZINE
SAVOIE (73) €997,000 FAI
St Cassin. Set in a peaceful garden, this bright and spacious
property of 250 m² has 6 bedrooms and a pool.
St. Cassin. Un havre de paix dans un parc magnifique, maison
lumineuse de 250 m² avec 6 chambres, piscine, très belles
prestations.
REF: 52143TB73
VIENNE (86) €1,627,500 FAI
Jazeneuil. Impressive 8 bedroom château in beautiful grounds,
with guardian's house, stables, and a heated pool.
Jazeneuil. Majestueux château de 8 chambres avec un magnifique parc,
une maison de gardien, des écuries et une piscine
chauffée.
REF: 50992JH86
HAUTE-VIENNE (87) €1,270,000 FAI
Fromental. 15th century, 8 bedroom château with second
house, equestrian facilities and 20 hectares of land.
Fromental. Chateau de XV ième siècle avec huit chambres, deuxieme maison, ecuries
et 20 hectares.
REF: 53977KA87
VAR (83) €1,200,000 FAI
Tourrettes. Recently built, 4 bedroom modern villa with guest
studio, fabulous views and a pool.
Tourrettes. Villa contemporaine de 4 chambres, construite
récemment avec appartement d'amis, de magnifiques vues et
une piscine.
REF: 55128JTO83
ALPES MARITIMES (06) €2,300,000 FAI
Vence. Stunning provençal mas on the edge of the sought after
town of Vence, close to Nice.
Vence. Mas provençal exceptionnel aux portes de la ravissante
ville de Vence, à proximité de Nice.
REF: 53877TC06
CHARENTE (16) €975,000 FAI
Aubeterre. Immaculately restored manoir, with outstanding
views, 8 ensuite bedrooms and glorious pool.
Aubeterre. Belle demeure rénovée avec des vues exceptionnelles,
8 chambres avec salles de bains particulières et une très belle
piscine.
REF: 43295JB16
info@leggett.frttp://leggett.fr" target="_blank" title="Visit leggett.fr">leggett.fr +33 (0)5 53 60 84 88