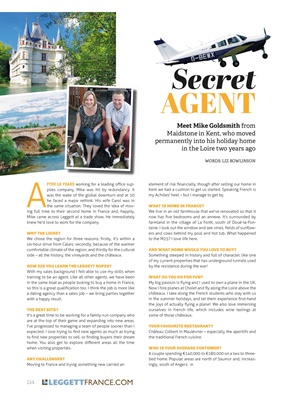 Meet Mike Goldsmith from
Maidstone in Kent, who moved
permanently into his holiday home
in the Loire two years ago
WORDS: LIZ ROWLINSON
Secret
AGENT
A
FTER 18 YEARS working for a leading office supplies company,
Mike was hit by redundancy. It
was the wake of the global downturn and at 50
he faced a major rethink. His wife Carol was in
the same situation. They loved the idea of moving full
time to their second home in France and, happily,
Mike came across Leggett at a trade show. He immediately
knew he'd love to work for the company.
WHY THE LOIRE?
We chose the region for three reasons: firstly, it's within a
six-hour drive from Calais; secondly, because of the warmer
comfortable climate of the region; and thirdly for the cultural
side - all the history, the vineyards and the châteaux.
HOW DID YOU LEARN THE LEGGETT ROPES?
With my sales background I felt able to use my skills when
training to be an agent. Like all other agents, we have been
in the same boat as people looking to buy a home in France,
so this is a great qualification too. I think the job is more like
a dating agency than a sales job - we bring parties together
with a happy result.
THE BEST BITS?
It's a great time to be working for a family-run company who
are at the top of their game and expanding into new areas.
I've progressed to managing a team of people sooner than I
expected. I love trying to find new agents as much as trying
to find new properties to sell, or finding buyers their dream
home. You also get to explore different areas all the time
when visiting properties.
ANY CHALLENGES?
Moving to France and trying something new carried an
element of risk financially, though after selling our home in
Kent we had a cushion to get us started. Speaking French is
my Achilles' heel - but I manage to get by.
WHAT IS HOME IN FRANCE?
We live in an old farmhouse that we've renovated so that it
now has five bedrooms and an annexe. It's surrounded by
farmland in the village of La Forêt, south of Doué-la-Fontaine.
I look out the window and see vines, fields of sunflowers
and cows behind my pool and hot tub. What happened
to the M25? I love life here.
AND WHAT HOME WOULD YOU LOVE TO BUY?
Something steeped in history and full of character, like one
of my current properties that has underground tunnels used
by the resistance during the war!
WHAT DO YOU DO FOR FUN?
My big passion is flying and I used to own a plane in the UK.
Now I hire planes at Cholet and fly along the Loire above the
châteaux. I take along the French students who stay with us
in the summer holidays, and let them experience first-hand
the joys of actually flying a plane!. We also love immersing
ourselves in French life, which includes wine tastings at
some of those châteaux.
YOUR FAVOURITE RESTAURANT?
Château Colbert in Maulévrier - especially the aperitifs and
the traditional French cuisine.
WHO IS YOUR AVERAGE CUSTOMER?
A couple spending €140,000 to €180,000 on a two to threebed home.
Popular areas are north of Saumur and, increasingly,
south of Angers.