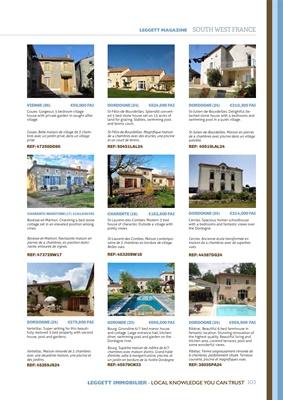 103
GIRONDE (33) €699,500 FAI
Bourg. Girondine 6/7 bed manor house
and cottage. Large entrance hall, kitchen
diner, swimming pool and garden on the
Dordogne river.
Bourg. Superbe maison de mâitre de 6/7
chambres avec maison d'amis. Grand halle
d'entrée, salle à manger/cuisine, piscine, et
un jardin en bordure de la rivière Dordogne.
REF: 45579CN33
VIENNE (86) €59,000 FAI
Gouex. Gorgeous 3 bedroom village
house with private garden in sought-after
village.
Gouex. Belle maison de village de 3 chambres avec un jardin privé, dans un village
prisé.
REF: 47256DD86
DORDOGNE (24) €824,999 FAI
St-Félix-de-Bourdeilles. Splendid converted 5 bed stone house set on 15 acres
of
land for grazing. Stables, swimming pool
and tennis court.
St-Félix-de-Bourdeilles. Magnifique maison
de 4 chambres avec des écuries, une piscine
et un court de tennis.
REF: 50451LAL24
DORDOGNE (24) €310,300 FAI
St-Julien-de-Bourdeilles. Delightful detached stone house with 4 bedrooms
and
swimming pool in a quiet village.
St-Julien-de-Bourdeilles. Maison en pierres
de 4 chambres avec piscine dans un village
paisible.
REF: 49519LAL24
CHARENTE-MARITIME (17) €183,600 FAI
Boresse-et-Martron. Charming 4 bed stone
cottage set in an elevated position among
vines.
Boresse-et-Martron. Ravissante maison en
pierres de 4 chambres, en position dominante, entourée de vignes.
REF: 47372SW17
CHARENTE (16) €162,800 FAI
St-Laurent-des-Combes. Modern 3 bed
house of character. Outside a village with
pretty views.
St-Laurent-des-Combes. Maison contemporaine
de 3 chambres en bordure de village.
Belles vues.
REF: 48320SW16
DORDOGNE (24) €659,999 FAI
Ribérac. Beautiful 6 bed farmhouse in
fantastic location. Stunning renovation of
the highest quality. Beautiful living and
kitchen area, covered terraces, pool and
some wonderful views.
Ribérac. Ferme soigneusement rénovée de
6 chambres, parfaitement située. Terrasse
couverte, piscine et magnifiques vues.
REF: 38035PA24
DORDOGNE (24) €214,000 FAI
Cercles. Spacious former schoolhouse
with 4 bedrooms and fantastic views over
the Dordogne.
Cercles. Ancienne école transformée en
maison de 4 chambres avec de superbes
vues.
REF: 44387DG24
DORDOGNE (24) €275,600 FAI
Verteillac. Super setting for this beautifully restored
5 bed property with second
house, pool and gardens.
Verteillac. Maison rénovée de 5 chambres
avec une deuxième maison, une piscine et
des jardins.
REF: 45259JS24
LEGGETT IMMOBILIER - LOCAL KNOWLEDGE YOU CAN TRUST
LEGGETT MAGAZINE SOUTH WEST FRANCE