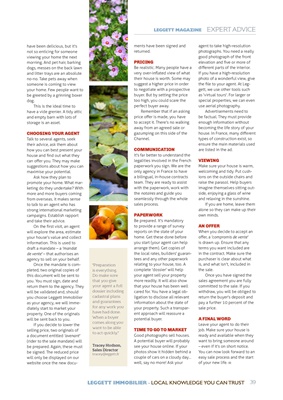 "Preparation
is everything.
Do make sure
that you give
your agent a full
dossier including
cadastral plans
and guarantees
for any work you
have had done.
When a buyer
comes along you
want to be able
to act quickly."
Tracey Hudson,
Sales Director
tracey@eggett.frhttp://eggett.fr" target="_blank" title="Visit eggett.fr">eggett.fr
LEGGETT IMMOBILIER - LOCAL KNOWLEDGE YOU CAN TRUST 39
have been delicious, but it's
not so enticing for someone
viewing your home the next
morning. And pet hair, barking
dogs, messes on the back lawn
and litter trays are an absolute
no-no. Take pets away when
someone is coming to view
your home. Few people want to
be greeted by a grinning boxer
dog.
This is the ideal time to
have a vide grenier. A tidy attic
and empty barn with lots of
storage is an asset.
CHOOSING YOUR AGENT
Talk to several agents, seek
their advice, ask them about
how you can best present your
house and find out what they
can offer you. They may make
suggestions about how you can
maximise your potential.
Ask how they plan to
promote your home. What marketing
do they undertake? With
more and more buyers coming
from overseas, it makes sense
to talk to an agent who has
strong international marketing
campaigns. Establish rapport
and take their advice.
On the first visit, an agent
will explore the area, estimate
your house's value and collect
information. This is used to
draft a mandate - a 'mandat
de vente' - that authorises an
agency to sell on your behalf.
Once the mandate is completed, two
original copies of
this document will be sent to
you. You must sign, date and
return them to the agency. They
will be validated and, should
you choose Leggett Immobilier
as your agency, we will immediately start to market
your
property. One of the originals
will be sent back to you.
If you decide to lower the
selling price, two originals of
a document entitled 'avenant'
(rider to the sale mandate) will
be prepared. Again, these must
be signed. The reduced price
will only be displayed on our
website once the new documents have
been signed and
returned.
PRICING
Be realistic. Many people have a
very over-inflated view of what
their house is worth. Some may
suggest a higher price in order
to negotiate with a prospective
buyer. But by setting the price
too high, you could scare the
perfect buyer away.
Remember that if an asking
price offer is made, you have
to accept it. There's no walking
away from an agreed sale or
gazumping on this side of the
Channel.
COMMUNICATION
It's far better to understand the
legalities involved in the French
paperwork you sign. We are the
only agency in France to have
a bilingual, in-house contracts
team. They are ready to assist
with the paperwork, work with
the notaires and guide you
seamlessly through the whole
sales process.
PAPERWORK
Be prepared. It's mandatory
to provide a range of survey
reports on the state of your
home. Get these done before
you start (your agent can help
arrange them). Get copies of
the local rates, builders' guarantees and any other paperwork
relating to your house, too. A
complete 'dossier' will help
your agent sell your property
more readily. It will also show
that your house has been well
cared for. You have a legal obligation to disclose all relevant
information about the state of
your property. Such a transparent approach
will reassure a
potential buyer.
TIME TO GO TO MARKET
Good photographs sell houses.
A potential buyer will probably
see your house online. If your
photos show it hidden behind a
couple of cars on a cloudy day…
well, say no more! Ask your
agent to take high-resolution
photographs. You need a really
good photograph of the front
elevation and five or more of
different parts of the interior.
If you have a high-resolution
photo of a wonderful view, give
the file to your agent. At Leggett,
we use other tools such
as 'virtual tours'. For larger or
special properties, we can even
use aerial photography.
Advertisements need to
be factual. They must provide
enough information without
becoming the life story of your
house. In France, many different
types of construction exist, so
ensure the main materials used
are listed in the ad.
VIEWING
Make sure your house is warm,
welcoming and tidy. Put cushions on the outside chairs
and
raise the parasol. Help buyers
imagine themselves sitting outside,
enjoying a glass of wine
and relaxing in the sunshine.
If you are home, leave them
alone so they can make up their
own minds.
AN OFFER
When you decide to accept an
offer, a 'compromis de vente'
is drawn up. Ensure that any
terms you want included are
in the contract. Make sure the
purchaser is clear about what
is, and what isn't, included in
the sale.
Once you have signed the
sales agreement you are fully
committed to the sale. If you
withdraw, you will be obliged to
return the buyer's deposit and
pay a further 10 percent of the
sale price.
A FINAL WORD
Leave your agent to do their
job. Make sure your house is
ready and available when they
want to bring someone around
- even if it's on short notice.
You can now look forward to an
easy sale process and the start
of your new life.
LEGGETT MAGAZINE EXPERT ADVICE