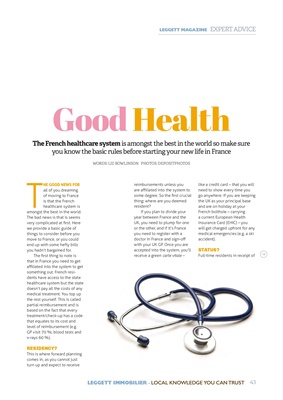 LEGGETT IMMOBILIER - LOCAL KNOWLEDGE YOU CAN TRUST
Good Health
The French healthcare system is amongst the best in the world so make sure
you know the basic rules before starting your new life in France
reimbursements unless you
are affiliated into the system to
some degree. So the first crucial
thing: where are you deemed
resident?
If you plan to divide your
year between France and the
UK, you need to plump for one
or the other, and if it's France
you need to register with a
doctor in France and sign-off
with your UK GP. Once you are
accepted into the system, you'll
receive a green carte vitale -
like a credit card - that you will
need to show every time you
go anywhere. If you are keeping
the UK as your principal base
and are on holiday at your
French bolthole - carrying
a current European Health
Insurance Card (EHIC) - you
will get charged upfront for any
medical emergencies (e.g. a ski
accident).
STATUS?
Full-time residents in receipt of
T
HE GOOD NEWS FOR
all of you dreaming
of moving to France
is that the French
healthcare system is
amongst the best in the world.
The bad news is that is seems
very complicated at first. Here
we provide a basic guide of
things to consider before you
move to France, or you could
end up with some hefty bills
you hadn't bargained for.
The first thing to note is
that in France you need to get
affiliated into the system to get
something out. French residents have
access to the state
healthcare system but the state
doesn't pay all the costs of any
medical treatment. You top up
the rest yourself. This is called
partial reimbursement and is
based on the fact that every
treatment/check-up has a code
that equates to its cost and
level of reimbursement (e.g.
GP visit 70 %; blood tests and
x-rays 60 %).
RESIDENCY?
This is where forward planning
comes in, as you cannot just
turn up and expect to receive
WORDS: LIZ ROWLINSON PHOTOS: DEPOSITPHOTOS
43
LEGGETT MAGAZINE EXPERT ADVICE