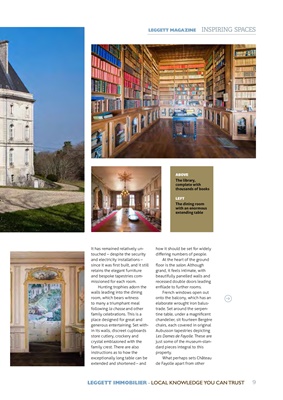 LEGGETT IMMOBILIER - LOCAL KNOWLEDGE YOU CAN TRUST 9
It has remained relatively untouched - despite the security
and electricity installations -
since it was first built, and it still
retains the elegant furniture
and bespoke tapestries commissioned
for each room.
Hunting trophies adorn the
walls leading into the dining
room, which bears witness
to many a triumphant meal
following la chasse and other
family celebrations. This is a
place designed for great and
generous entertaining. Set within its walls, discreet
cupboards
store cutlery, crockery and
crystal emblazoned with the
family crest. There are also
instructions as to how the
exceptionally long table can be
extended and shortened - and
how it should be set for widely
differing numbers of people.
At the heart of the ground
floor is the salon. Although
grand, it feels intimate, with
beautifully panelled walls and
recessed double doors leading
enfilade to further rooms.
French windows open out
onto the balcony, which has an
elaborate wrought iron balustrade.
Set around the serpentine table,
under a magnificent
chandelier, sit fourteen Bergère
chairs, each covered in original
Aubusson tapestries depicting
Les Dames de Fayolle. These are
just some of the museum-standard
pieces integral to this
property.
What perhaps sets Château
de Fayolle apart from other
LEGGETT MAGAZINE INSPIRING SPACES
ABOVE
The library,
complete with
thousands of books
LEFT
The dining room
with an enormous
extending table