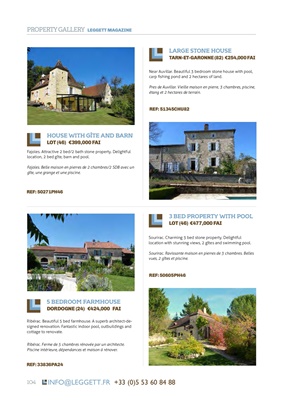 104
PROPERTY GALLERY LEGGETT MAGAZINE
3 BED PROPERTY WITH POOL
LOT (46) €477,000 FAI
Sourirac. Charming 3 bed stone property. Delightful
location with stunning views, 2 gîtes and swimming pool.
Sourirac. Ravissante maison en pierres de 3 chambres. Belles
vues, 2 gîtes et piscine.
REF: 50605PH46
Ribérac. Beautiful 5 bed farmhouse. A superb architect-designed renovation.
Fantastic indoor pool, outbuildings and
cottage to renovate.
Ribérac. Ferme de 5 chambres rénovée par un architecte.
Piscine intérieure, dépendances et maison à rénover.
5 BEDROOM FARMHOUSE
DORDOGNE (24) €424,000 FAI
REF: 33836PA24
Fajoles. Attractive 2 bed/2 bath stone property. Delightful
location, 2 bed gîte, barn and pool.
Fajoles. Belle maison en pierres de 2 chambres/2 SDB avec un
gîte, une grange et une piscine.
HOUSE WITH GÎTE AND BARN
LOT (46) €399,000 FAI
REF: 50271PH46
Near Auvillar. Beautiful 3 bedroom stone house with pool,
carp fishing pond and 2 hectares of land.
Pres de Auvillar. Vieille maison en pierre, 3 chambres, piscine,
étang et 2 hectares de terrain.
REF: 51345CHU82
LARGE STONE HOUSE
TARN-ET-GARONNE (82) €254,000 FAI
info@leggett.frttp://leggett.fr" target="_blank" title="Visit leggett.fr">leggett.fr +33 (0)5 53 60 84 88