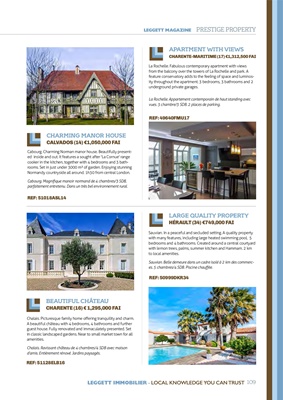 LEGGETT IMMOBILIER - LOCAL KNOWLEDGE YOU CAN TRUST 109
LEGGETT MAGAZINE PRESTIGE PROPERTY
Chalais. Picturesque family home offering tranquility and charm.
A beautiful château with 4 bedrooms, 4 bathrooms and further
guest house. Fully renovated and immaculately presented. Set
in classic landscaped gardens. Near to small market town for all
amenities.
Chalais. Ravissant château de 4 chambres/4 SDB avec maison
d'amis. Entièrement rénové. Jardins paysagés.
BEAUTIFUL CHÂTEAU
CHARENTE (16) € 1,295,000 FAI
REF: 51128ELB16
LARGE QUALITY PROPERTY
HÉRAULT (34) €749,000 FAI
Sauvian. In a peaceful and secluded setting. A quality property
with many features, including large heated swimming pool, 5
bedrooms and 4 bathrooms. Created around a central courtyard
with lemon trees, palms, summer kitchen and Hammam. 2 km
to local amenities.
Sauvian. Belle demeure dans un cadre isolé à 2 km des commerces. 5 chambres/4 SDB. Piscine chauffée.
REF: 50999DKR34
APARTMENT WITH VIEWS
CHARENTE-MARITIME (17) €1,312,500 FAI
La Rochelle. Fabulous contemporary apartment with views
from the balcony over the towers of La Rochelle and park. A
feature conservatory adds to the feeling of space and luminosity throughout
the apartment. 3 bedrooms, 3 bathrooms and 2
underground private garages.
La Rochelle. Appartement contemporain de haut standing avec
vues. 3 chambre/3 SDB. 2 places de parking.
REF: 49640FMU17
Cabourg. Charming Norman manor house. Beautifully presented inside and out. It features
a sought after 'La Cornue' range
cooker in the kitchen, together with 4 bedrooms and 3 bathrooms.
Set in just under 3000 m² of garden. Enjoying stunning
Normandy countryside all around. 1h30 from central London.
Cabourg. Magnifique manoir normand de 4 chambres/3 SDB,
parfaitement entretenu. Dans un très bel environnement rural.
REF: 51018ASL14
CHARMING MANOR HOUSE
CALVADOS (14) €1,050,000 FAI