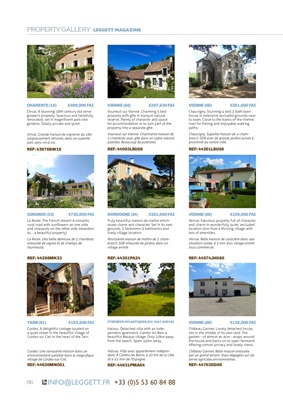 86
PROPERTY GALLERY LEGGETT MAGAZINE
CHARENTE (16) €499,900 FAI
Orival. A stunning 18th century old winegrower's
property. Spacious and tastefully
renovated, set in magnificent park-like
gardens. Totally private and quiet.
Orival. Grande maison de vigneron du 18e
soigneusement rénovée, dans un superbe
parc sans vis-à-vis.
REF: 43676SW16
VIENNE (86) €287,830 FAI
Vouneuil sur Vienne. Charming 5 bed
property with gîte in tranquil natural
reserve. Plenty of character and space
for accommodation or to turn part of the
property into a separate gîte.
Vouneuil sur Vienne. Charmante maison de
5 chambres avec gîte dans un cadre naturel
paisible. Beaucoup de potentiel.
REF: 44093LBU86
VIENNE (86) €381,600 FAI
Chauvigny. Stunning 4 bed 2 bath town
house in extensive secluded grounds near
to town. Close to the banks of the Vienne
river for fishing and enjoyable walking
paths.
Chauvigny. Superbe maison de 4 chambres/2 SDB avec de grands
jardins privés à
proximité du centre-ville.
REF: 44261LBU86
GIRONDE (33) €720,000 FAI
La Reole. The French dream! A romantic
rural road with sunflowers on one side
and vineyards on the other side meanders
to.... a beautiful property!
La Reole. Une belle demeure de 5 chambres
entourée de vignes et de champs de
tournesols.
REF: 44298MK33
DORDOGNE (24) €381,600 FAI
Truly beautiful maison de maître which
oozes charm and character. Set in its own
grounds. 5 bedrooms 3 bathrooms and
lively village location.
Ravissante maison de maître de 5 chambres/3 SDB entourée de jardins dans un
village animé.
REF: 44301PA24
VIENNE (86) €109,000 FAI
Verrue. Fabulous property full of character
and charm in wonderfully quiet, secluded
location 5km from a thriving village with
lots of amenities.
Verrue. Belle maison de caractère dans une
situation isolée, à 5 min d'un village animé
tous commerces.
REF: 44574JHO86
TARN (81) €152,500 FAI
Cordes, A delightful cottage located on
a quiet street in the beautiful village of
Cordes sur Ciel in the heart of the Tarn.
Cordes. Une ravissante maison dans un
environnement paisible dans le magnifique
village de Cordes-sur-Ciel.
REF: 44620MNO81
PYRÉNÉES-ATLANTIQUES (64) €487,600 FAI
Halsou. Detached villa with an independent apartment. Cambo
les Bain a
beautiful Basque village. Only 20km away
from the beach. Spain 45km away.
Halsou. Villa avec appartement indépendant. A Cambo
les Bains, à 20 km de la côte
et à 45 min de l'Espagne.
REF: 44631PMA64
VIENNE (86) €138,000 FAI
Château Garnier. Lovely detached house,
sits in the middle of its own land. The
garden - of almost an acre - wraps around
the house and backs on to open farmland
offering utmost privacy and lovely views.
Château Garnier. Belle maison entourée
par un grand terrain. Vues dégagées sur les
terres agricoles environnantes.
REF: 44763DD86
info@leggett.frttp://leggett.fr" target="_blank" title="Visit leggett.fr">leggett.fr +33 (0)5 53 60 84 88