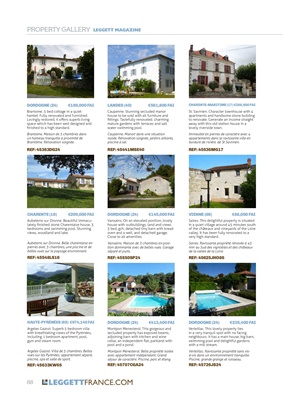 88
PROPERTY GALLERY LEGGETT MAGAZINE
DORDOGNE (24) €189,000 FAI
Brantome. 5 bed cottage in a quiet
hamlet. Fully renovated and furnished.
Lovingly restored, it offers superb living
space which has been well designed and
finished to a high standard.
Brantome. Maison de 5 chambres dans
un hameau tranquille à proximité de
Brantôme. Rénovation soignée.
REF: 45363DG24
LANDES (40) €561,800 FAI
Caupenne. Stunning secluded manor
house to be sold with all furniture and
fittings. Tastefully renovated. charming
mature gardens with terraces and salt
water swimming pool.
Caupenne. Manoir dans une situation
isolée. Rénovation soignée, jardins arborés,
piscine à sel.
REF: 45441MSE40
CHARENTE-MARITIME (17) €288,900 FAI
St. Savinien. Character townhouse with 4
apartments and handsome stone building
to renovate. Generate an income straight
away with this old station house in a
lovely riverside town.
Immeuble en pierres de caractère avec 4
appartements dans la ravissante ville en
bordure de rivière. de St Savinien.
REF: 45536MG17
CHARENTE (16) €299,000 FAI
Aubeterre sur Dronne. Beautiful immaculately finished stone Charentaise
house. 3
bedrooms and swimming pool. Stunning
views, woodland and lake.
Aubeterre sur Dronne. Belle charentaise en
pierres avec 3 chambres, une piscine et de
belles vues sur le paysage environnant.
REF: 45548LS16
DORDOGNE (24) €145,000 FAI
Vanxains. On an elevated position, lovely
house with outbuildings, land and views.
3 bed, gch, detached tiny barn with bread
oven and a well, and detached garage.
Close to all amenities.
Vanxains. Maison de 3 chambres en position dominante avec de belles
vues. Garage
séparé et puits.
REF: 45550SP24
VIENNE (86) €88,000 FAI
Saires. This delightful property is situated
in a quiet village around 45 minutes south
of the châteaux and vineyards of the Loire
valley. It has been fully renovated to a
very high standard.
Saires. Ravissante propriété rénovée à 45
min au Sud des vignobles et des châteaux
de la vallée de la Loire.
REF: 45625JHO86
HAUTE-PYRÉNÉES (65) €974,140 FAI
Argeles Gazost. Superb 5 bedroom villa
with breathtaking views of the Pyrénées,
including 1 bedroom apartment, pool,
gym and steam room.
Argeles Gazost. Villa de 5 chambres. Belles
vues sur les Pyrénées, appartement séparé,
piscine, spa et salle de sport.
REF: 45633KW65
DORDOGNE (24) €413,400 FAI
Montpon Menesterol. This gorgeous and
secluded property has exposed beams,
adjoining barn with kitchen and wine
cellar, an independent flat, parkland with
pool and a pond.
Montpon Menesterol. Belle propriété isolée
avec appartement indépendant. Grand
séjour de caractère. Piscine, parc et étang.
REF: 45707CGA24
DORDOGNE (24) €235,400 FAI
Verteillac. This lovely property lies
in a very tranquil spot with no facing
neighbours. It has a main house, big barn,
swimming pool and delightful gardens
with a mill stream.
Verteillac. Ravissante propriété sans visà-vis dans un environnement tranquille.
Piscine, grande grange et ruisseau.
REF: 45726JS24