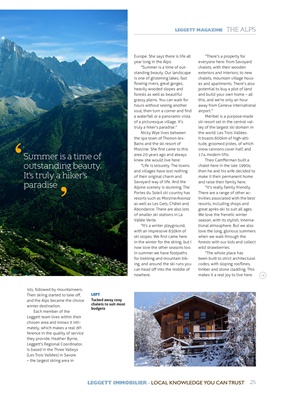 LEFT
Tucked away cosy
chalets to suit most
budgets
LEGGETT MAGAZINE THE ALPS
Summer is a time of
outstanding beauty.
It's truly a hiker's
paradise
ists, followed by mountaineers.
Then skiing started to take off,
and the Alps became the choice
winter destination.
Each member of the
Leggett team lives within their
chosen area and knows it intimately,
which makes a real difference
in the quality of service
they provide. Heather Byrne,
Leggett's Regional Coordinator,
is based in the Three Valleys
(Les Trois Vallées) in Savoie
- the largest skiing area in
Europe. She says there is life all
year long in the Alps:
"Summer is a time of outstanding beauty.
Our landscape
is one of glistening lakes, fast
flowing rivers, great gorges,
heavily wooded slopes and
forests as well as beautiful
grassy plains. You can walk for
hours without seeing another
soul, then turn a corner and find
a waterfall or a panoramic vista
of a picturesque village. It's
truly a hiker's paradise."
Nicky Wye lives between
the spa town of Thonon-lesBains and the ski resort
of
Morzine. She first came to this
area 20 years ago and always
knew she would live here:
"Life is leisurely. The towns
and villages have lost nothing
of their original charm and
Savoyard way of life. And the
Alpine scenery is stunning. The
Portes du Soleil ski country has
resorts such as Morzine/Avonaz
as well as Les Gets, Châtel and
Abondance. There are also lots
of smaller ski stations in La
Vallée Verte.
"It's a winter playground,
with an impressive 650km of
ski slopes. We first came here
in the winter for the skiing, but I
now love the other seasons too.
In summer we have footpaths
for trekking and mountain biking,
and around the ski runs you
can head off into the middle of
nowhere.
"There's a property for
everyone here: from Savoyard
chalets, with their wooden
exteriors and interiors, to new
chalets, mountain village houses and apartments. There's
also
potential to buy a plot of land
and build your own home - all
this, and we're only an hour
away from Geneva international
airport."
Méribel is a purpose-made
ski resort set in the central valley
of the largest ski domain in
the world: Les Trois Vallées.
It boasts 600km of high-altitude,
groomed pistes, of which
snow cannons cover half, and
174 modern lifts.
Theo Camfferman built a
chalet here in the late 1990s;
then he and his wife decided to
make it their permanent home
and raise their family here.
"It's really family friendly.
There are a range of other activities associated
with the best
resorts, including shops and
great après-ski to suit all ages.
We love the frenetic winter
season, with its stylish, international atmosphere.
But we also
love the long, glorious summers
when we walk through the
forests with our kids and collect
wild strawberries.
"The whole place has
been built to strict architectural
codes, with sloping rooflines,
timber and stone cladding. This
makes it a real joy to live here.
ʻ
' LEGGETT IMMOBILIER - LOCAL KNOWLEDGE YOU CAN TRUST 25