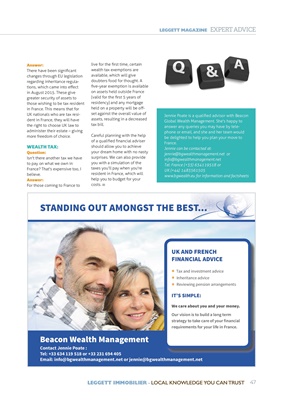 LEGGETT IMMOBILIER - LOCAL KNOWLEDGE YOU CAN TRUST 47
LEGGETT MAGAZINE EXPERT ADVICE
Answer:
There have been significant
changes through EU legislation
regarding inheritance regulations, which came into effect
in August 2015. These give
greater security of assets to
those wishing to be tax resident
in France. This means that for
UK nationals who are tax resident in France,
they will have
the right to choose UK law to
administer their estate - giving
more freedom of choice.
WEALTH TAX:
Question:
Isn't there another tax we have
to pay on what we own in
France? That's expensive too, I
believe.
Answer:
For those coming to France to
live for the first time, certain
wealth tax exemptions are
available, which will give
doubters food for thought. A
five-year exemption is available
on assets held outside France
(valid for the first 5 years of
residency) and any mortgage
held on a property will be offset against the overall
value of
assets, resulting in a decreased
tax bill.
Careful planning with the help
of a qualified financial adviser
should allow you to achieve
your dream home with no nasty
surprises. We can also provide
you with a simulation of the
taxes you'll pay when you're
resident in France, which will
help you to budget for your
costs.
Standing out amongst the best for:
UK and French financial advice including
● Tax and investment advice
● Inheritance advice
STANDING OUT AMONGST THE BEST...
UK AND FRENCH
FINANCIAL ADVICE
• Tax and investment advice
• Inheritance advice
• Reviewing pension arrangements
IT'S SIMPLE:
We care about you and your money.
Our vision is to build a long term
strategy to take care of your financial
requirements for your life in France.
Contact Jennie Poate :
Tel: +33 634 119 518 or +33 231 694 405
Email: info@bgwealthmanagement.netthmajennie@bgwealthmanagement.net title="Visit bgwealthmanagement.net">bgwealthmanagement.net or jennie@bgwealthmanagement.net
Beacon Wealth Management
Jennie Poate is a qualified advisor with Beacon
Global Wealth Management. She's happy jennie@bgwealthmanagement.netou may havinfo@bgwealthmanagement.netd she and her team would
be delighted to help you plan your move to
France.
Jennie can be contacted at:
jennie@bgwealthmanagement.net or
Tel: France (+33) 634119518 or
UK (+44) 1483561505
www.bgwealth.eu for information and factsheets