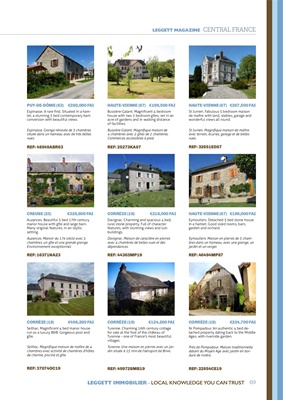 69
PUY-DE-DÔME (63) €280,000 FAI
Espinasse. A rare find. Situated in a hamlet, a stunning 3 bed contemporary
barn
conversion with beautiful views.
Espinasse. Grange rénovée de 3 chambres
située dans un hameau avec de très belles
vues.
REF: 48549ABR63
HAUTE-VIENNE (87) €199,500 FAI
Bussière-Galant. Magnificent 4 bedroom
house with two 2 bedroom gîtes, set in an
acre of gardens and in walking distance
of facilities.
Bussière-Galant. Magnifique maison de
4 chambres avec 2 gîtes de 2 chambres.
Commerces accessibles à pied.
REF: 25273KA87
HAUTE-VIENNE (87) €267,500 FAI
St Junien. Fabulous 5 bedroom maison
de maître with land, stables, garage and
wonderful views all round.
St Junien. Magnifique maison de maître
avec terrain, écuries, garage et de belles
vues.
REF: 32651ED87
CREUSE (23) €328,600 FAI
Auzances. Beautiful 5 bed 17th century
manor house with gîte and large barn.
Many original features, in an idyllic
setting.
Auzances. Manoir du 17e siècle avec 5
chambres, un gîte et une grande grange.
Environnement exceptionnel.
REF: 16371NA23
CORRÈZE (19) €219,000 FAI
Davignac. Charming and spacious 4 bed,
rural stone property. Full of character
features, with stunning views and outbuildings.
Davignac. Maison de caractère en pierres
avec 4 chambres de belles vues et des
dépendances.
REF: 44363MP19
HAUTE-VIENNE (87) €199,000 FAI
Eymoutiers. Detached 3 bed stone house
in a hamlet. Good sized rooms, barn,
garden and orchard.
Eymoutiers. Maison en pierres de 3 chambres dans un hameau,
avec une grange, un
jardin et un verger.
REF: 46494MP87
CORRÈZE (19) €498,200 FAI
Seilhac. Magnificent 4 bed manor house
run as a luxury B&B. Gorgeous pool and
gîte.
Seilhac. Magnifique maison de maître de 4
chambres avec activité de chambres d'hôtes
de charme, piscine et gîte.
REF: 37074OC19
CORRÈZE (19) €124,200 FAI
Turenne. Charming 16th century cottage
for sale at the foot of the château of
Turenne - one of France's most beautiful
villages.
Turenne. Une maison en pierres avec un jardin située à 15 min de l'aéroport de Brive.
REF: 49972SMB19
CORRÈZE (19) €224,700 FAI
Nr Pompadour. An authentic 4 bed detached property
dating back to the Middle
Ages, with riverside garden.
Prés de Pompadour. Maison traditionnelle
datant du Moyen Age avec jardin en bordure de rivière.
REF: 22854CE19
LEGGETT IMMOBILIER - LOCAL KNOWLEDGE YOU CAN TRUST
LEGGETT MAGAZINE CENTRAL FRANCE