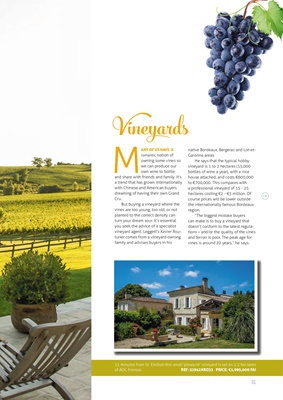 31
M
ANY OF US HAVE A
romantic notion of
owning some vines so
we can produce our
own wine to bottle
and share with friends and family. It's
a trend that has grown internationally
with Chinese and American buyers
dreaming of having their own Grand
Cru.
But buying a vineyard where the
vines are too young, too old, or not
planted to the correct density can
turn your dream sour. It's essential
you seek the advice of a specialist
vineyard agent. Leggett's Xavier Routurier comes
from a vineyard-owning
family and advises buyers in his
Vineyards
15 minutes from St. Emilion this small 'pleasure' vineyard is set on 2.3 hectares
of AOC Fronsac. REF: 52942XRO33 PRICE: €1.995,000 FAI
native Bordeaux, Bergerac and Lot-etGaronne
areas.
He says that the typical hobby
vineyard is 1 to 2 hectares (15,000
bottles of wine a year), with a nice
house attached, and costs €600,000
to €700,000. This compares with
a professional vineyard of 15 - 25
hectares costing €2 - €3 million. Of
course prices will be lower outside
the internationally famous Bordeaux
region.
"The biggest mistake buyers
can make is to buy a vineyard that
doesn't conform to the latest regulations - and/or
the quality of the vines
and terroir is poor. The peak age for
vines is around 20 years," he says.