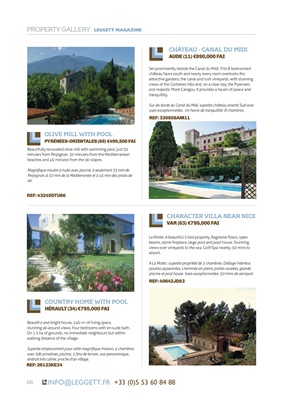 66
PROPERTY GALLERY LEGGETT MAGAZINE
CHÂTEAU - CANAL DU MIDI
AUDE (11) €890,000 FAI
Set prominently beside the Canal du Midi. This 8 bedroomed
château faces south and nearly every room overlooks the
attractive gardens, the canal and lush vineyards, with stunning
views of the Corbières hills and, on a clear day, the Pyrenees
and majestic Mont Canigou. It provides a haven of peace and
tranquillity.
Sur les bords du Canal du Midi, superbe château orienté Sud avec
vues exceptionnelles. Un havre de tranquillité. 8 chambres.
REF: 33685SAM11
Beautiful and bright house, 240 m² of living space,
stunning all-around views. Four bedrooms with en-suite bath.
On 1.3 ha of grounds, no immediate neighbours but within
walking distance of the village.
Superbe emplacement pour cette magnifique maison, 4 chambres
avec Sdb privatives, piscine, 1.3ha de terrain, vue panoramique,
endroit très calme, proche d'un village.
COUNTRY HOME WITH POOL
HÉRAULT (34) €795,000 FAI
REF: 26123KE34
CHARACTER VILLA NEAR NICE
VAR (83) €795,000 FAI
La Motte. A beautiful 5 bed property, flagstone floors, open
beams, stone fireplace, large pool and pool house. Stunning
views over vineyards to the sea. Golf/Spa nearby. 50 mins to
airport.
A La Motte : superbe propriété de 5 chambres. Dallage intérieur,
poutres apparentes, cheminée en pierre, portes voutées, grande
piscine et pool house. Vues exceptionnelles. 50 mins de aeroport.
REF: 40642JD83
Beautifully renovated olive mill with swimming pool, just 35
minutes from Perpignan, 50 minutes from the Mediterranean
beaches and 45 minutes from the ski slopes.
Magnifique moulin à huile avec piscine, à seulement 35 min de
Perpignan, à 50 min de la Méditerranée et à 45 min des pistes de
ski.
OLIVE MILL WITH POOL
PYRÉNÉES-ORIENTALES (66) €499,500 FAI
REF: 43245DTU66
info@leggett.frttp://leggett.fr" target="_blank" title="Visit leggett.fr">leggett.fr +33 (0)5 53 60 84 88