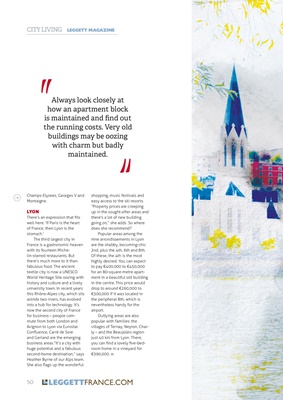 50
CITY LIVING LEGGETT MAGAZINE
Champs-Elysees, Georges V and
Montaigne.
LYON
There's an expression that fits
well here: 'If Paris is the heart
of France, then Lyon is the
stomach.'
The third largest city in
France is a gastronomic heaven
with its fourteen Michelin-starred
restaurants. But
there's much more to it than
fabulous food. The ancient
textile city is now a UNESCO
World Heritage Site oozing with
history and culture and a lively
university town. In recent years
this Rhône-Alpes city, which sits
astride two rivers, has evolved
into a hub for technology. It's
now the second city of France
for business - people commute from
both London and
Avignon to Lyon via Eurostar.
Confluence, Carré de Soie
and Gerland are the emerging
business areas."It's a city with
huge potential and a fabulous
second-home destination," says
Heather Byrne of our Alps team.
She also flags up the wonderful
shopping, music festivals and
easy access to the ski resorts.
"Property prices are creeping
up in the sought-after areas and
there's a lot of new building
going on," she adds. So where
does she recommend?
Popular areas among the
nine arrondissements in Lyon
are the shabby, becoming-chic
2nd, plus the 4th, 6th and 8th.
Of these, the 4th is the most
highly desired. You can expect
to pay €400,000 to €450,000
for an 80-square-metre apartment in a beautiful old building
in the centre. This price would
drop to around €260,000 to
€300,000 if it was located in
the peripheral 8th, which is
nevertheless handy for the
airport.
Outlying areas are also
popular with families: the
villages of Ternay, Neyron, Charly - and the Beaujolais region
just 40 km from Lyon. There,
you can find a lovely five-bedroom
home in a vineyard for
€390,000.
Always look closely at
how an apartment block
is maintained and find out
the running costs. Very old
buildings may be oozing
with charm but badly
maintained.
"
"