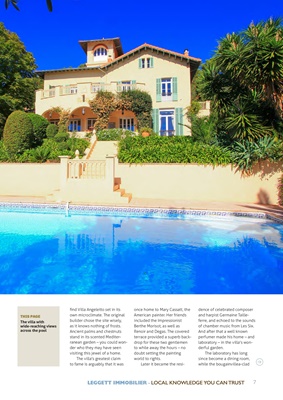 7
find Villa Angeletto set in its
own microclimate. The original
builder chose the site wisely,
as it knows nothing of frosts.
Ancient palms and chestnuts
stand in its scented Mediterranean
garden - you could wonder who they
may have seen
visiting this jewel of a home.
The villa's greatest claim
to fame is arguably that it was
once home to Mary Cassatt, the
American painter. Her friends
included the Impressionist
Berthe Morisot, as well as
Renoir and Degas. The covered
terrace provided a superb backdrop
for these two gentlemen
to while away the hours - no
doubt setting the painting
world to rights.
Later it became the residence
of celebrated composer
and harpist Germaine Tailleferre,
and echoed to the sounds
of chamber music from Les Six.
And after that a well known
perfumer made his home - and
laboratory - in the villa's wonderful garden.
The laboratory has long
since become a dining room,
while the bougainvillea-clad
THIS PAGE
The villa with
wide-reaching views
across the pool
LEGGETT IMMOBILIER - LOCAL KNOWLEDGE YOU CAN TRUST