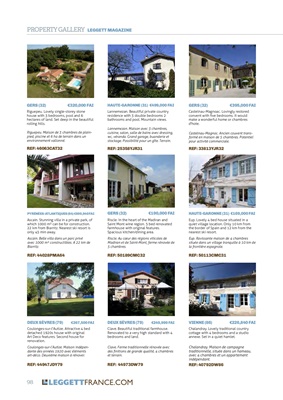 98
PROPERTY GALLERY LEGGETT MAGAZINE
GERS (32) €320,000 FAI
Riguepeu. Lovely single-storey stone
house with 3 bedrooms, pool and 6
hectares of land. Set deep in the beautiful
rolling hills.
Riguepeu. Maison de 3 chambres de plainpied, piscine et 6 ha de terrain
dans un
environnement vallonné.
REF: 46063CAT32
HAUTE-GARONNE (31) €499,000 FAI
Lannemezan. Beautiful private country
residence with 3 double bedrooms 2
bathrooms and pool. Mountain views.
Lannemezan. Maison avec 3 chambres,
cuisine, salon, salle de bains avec dressing,
wc, véranda. Grand garage, buanderie et
stockage. Possibilité pour un gîte. Terrain.
REF: 25358YJR31
GERS (32) €395,000 FAI
Castelnau-Magnoac. Lovingly restored
convent with five bedrooms. It would
make a wonderful home or chambres
d'hote.
Castelnau-Magnoc. Ancien couvent transformé en maison de 5 chambres. Potentiel
pour activité commerciale.
REF: 33813YJR32
PYRÉNÉES-ATLANTIQUES (64) €899,940 FAI
Ascain. Stunning villa in a private park, of
which 1000 m² can be for construction.
22 km from Biarritz. Nearest ski resort is
only 45 min away.
Ascain. Belle villa dans un parc privé
avec 1000 m² constructibles. A 22 km de
Biarritz.
REF: 44028PMA64
GERS (32) €190,000 FAI
Riscle. In the heart of the Madiran and
Saint Mont wine region. 5 bed renovated
farmhouse with original features.
Spacious kitchen/dining area.
Riscle. Au cœur des régions viticoles de
Madiran et de Saint-Mont, ferme rénovée de
5 chambres.
REF: 50189CMC32
HAUTE-GARONNE (31) €169,000 FAI
Eup. Lovely 4 bed house situated in a
quiet village location. Only 10 km from
the border of Spain and 12 km from the
nearest ski resort.
Eup. Ravissante maison de 4 chambres
située dans un village tranquille à 10 km de
la frontière espagnole.
REF: 50113CMC31
DEUX SÈVRES (79) €267,500 FAI
Coulonges-sur-l'Autize. Attractive 4 bed
detached 1920s house with original
Art Deco features. Second house for
renovation.
Coulonges-sur-l'Autize. Maison indépendante des années 1920 avec éléments
art-déco. Deuxième maison à rénover.
REF: 44947JDY79
DEUX SÈVRES (79) €249,999 FAI
Clave. Beautiful traditional farmhouse.
Renovated to a very high standard with 4
bedrooms and land.
Clave. Ferme traditionnelle rénovée avec
des finitions de grande qualité, 4 chambres
et terrain.
REF: 44973DW79
VIENNE (86) €226,840 FAI
Chalandray. Lovely traditional country
cottage with 4 bedrooms and a studio
annexe. Set in a quiet hamlet.
Chalandray. Maison de campagne
traditionnelle, située dans un hameau,
avec 4 chambres et un appartement
indépendant.
REF: 40792DW86