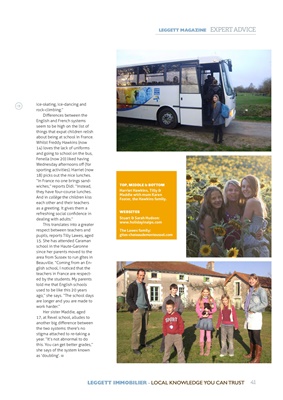 ice-skating, ice-dancing and
rock-climbing."
Differences between the
English and French systems
seem to be high on the list of
things that expat children relish
about being at school in France.
Whilst Freddy Hawkins (now
14) loves the lack of uniforms
and going to school on the bus,
Fenella (now 20) liked having
Wednesday afternoons off (for
sporting activities). Harriet (now
18) picks out the nice lunches.
"In France no one brings sandwiches," reports
Didi. "Instead,
they have four-course lunches.
And in collège the children kiss
each other and their teachers
as a greeting. It gives them a
refreshing social confidence in
dealing with adults."
This translates into a greater
respect between teachers and
pupils, reports Tilly Lawes, aged
15. She has attended  Caraman
school in the Haute-Garonne
since her parents moved to the
area from Sussex to run gîtes in
Beauville. "Coming from an English school, I noticed
that the
teachers in France are respected by
the students. My parents
told me that English schools
used to be like this 20 years
ago," she says. "The school days
are longer and you are made to
work harder."
Her sister Maddie, aged
17, at Revel school, alludes to
another big difference between
the two systems: there's no
stigma attached to re-taking a
year. "It's not abnormal to do
this. You can get better grades,"
she says of the system known
as 'doubling'.
TOP, MIDDLE & BOTTOM
Harriet Hawkins, Tilly &
Maddie with mum Karen
Foster, the Hawkins family.
WEBSITES
Stuart & Sarah Hudson:
The Lawes family:
41
LEGGETT MAGAZINE EXPERT ADVICE
LEGGETT IMMOBILIER - LOCAL KNOWLEDGE YOU CAN TRUST