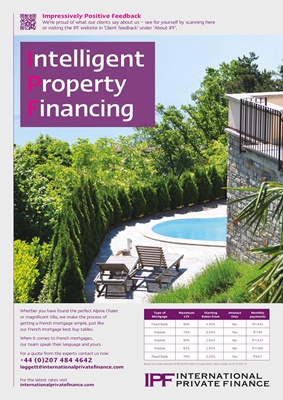 Whether you have found the perfect Alpine Chalet
or magnificent Villa, we make the process of
getting a French mortgage simple, just like
our French mortgage best buy tables.
When it comes to French mortgages,
our team speak their language and yours.
For a quote from the experts contact us now
+44 (0)207 484 4642
leggett@internationalprivatefinance.comivatefinance.com" target="_blank" title="Visit internationalprivatefinance.com">internationalprivatefinance.com
Intelligent
Property
Financing
For the latest rates visit
internationalprivatefinance.com
Based on a loan amount of ?250,000 and a 20 year term, rates correct as of 21/05/14
Type of
Mortgage
Maximum
LTV
Starting
Rates from
Interest
Only
Monthly
payments
Fixed Rate 80% 3.45% No y1443
Tracker 75% 3.55% Yes y740
Tracker 80% 2.60% No y1337
Tracker 85% 2.95% No y1380
Fixed Rate 70% 3.20% Yes y667
We're proud of what our clients say about us - see for yourself by scanning here
or visiting the IPF website in 'Client feedback' under 'About IPF'.
Impressively Positive Feedback
35