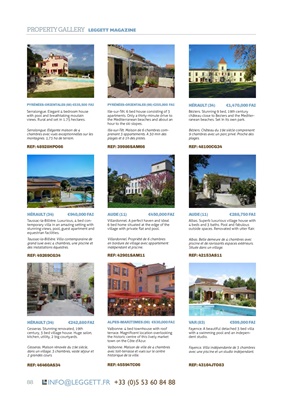 88
PYRÉNÉES-ORIENTALES (66) €535,500 FAI
Serralongue. Elegant 4 bedroom house
with pool and breathtaking moutain
views. Rural and set in 1.75 hectares.
Serralongue. Elégante maison de 4
chambres avec vues exceptionnelles sur les
montagnes. 1,75 ha de terrain.
REF: 48928HPO66
PYRÉNÉES-ORIENTALES (66) €255,000 FAI
Ille-sur-Têt. 6 bed house consisting of 3
apartments. Only a thirty-minute drive to
the Mediterranean beaches and about an
hour to the ski slopes.
Ille-sur-Têt. Maison de 6 chambres comprenant 3 appartements. A 30 min des
plages et à 1h des pistes.
REF: 39986SAM66
HÉRAULT (34) €1,470,000 FAI
Béziers. Stunning 9 bed, 19th century
château close to Beziers and the Mediterranean
beaches. Set in its own park.
Béziers. Château du 19e siècle comprenant
9 chambres avec un parc privé. Proche des
plages.
REF: 48100CG34
HÉRAULT (34) €940,000 FAI
Taussac-la-Billière. Luxurious, 4 bed contemporary
villa in an amazing setting with
stunning views, pool, guest apartment and
equestrian facilities.
Taussac-la-Billière. Villa contemporaine de
grand luxe avec 4 chambres, une piscine et
des installations équestres.
REF: 49269CG34
AUDE (11) €450,000 FAI
Villardonnel. A perfect haven and ideal
6 bed home situated at the edge of the
village with private flat and pool.
Villardonnel. Propriété de 6 chambres
en bordure de village avec appartement
indépendant et piscine.
REF: 42901SAM11
AUDE (11) €288,750 FAI
Albas. Superb luxurious village house with
4 beds and 3 baths. Pool and fabulous
outside spaces. Renovated with utter flair.
Albas. Belle demeure de 4 chambres avec
piscine et de ravissants espaces extérieurs.
Située dans un village.
REF: 42153AS11
HÉRAULT (34) €242,880 FAI
Cesseras. Stunning renovated, 19th
century, 3 bed village house. Huge salon,
kitchen, utility, 2 big courtyards.
Cesseras. Maison rénovée du 19e siècle,
dans un village. 3 chambres, vaste séjour et
2 grandes cours.
REF: 46460AS34
ALPES-MARITIMES (06) €630,000 FAI
Valbonne. 4 bed townhouse with roof
terrace. Magnificent location overlooking
the historic centre of this lively market
town on the Côte d'Azur.
Valbonne. Maison de ville de 4 chambres
avec toit-terrasse et vues sur le centre
historique de la ville.
REF: 45594TC06
VAR (83) €599,000 FAI
Fayence. A beautiful detached 3 bed villa
with a swimming pool and an independent studio.
Fayence. Villa indépendante de 3 chambres
avec une piscine et un studio indépendant.
REF: 43164JTO83
PROPERTY GALLERY LEGGETT MAGAZINE
info@leggett.frttp://leggett.fr" target="_blank" title="Visit leggett.fr">leggett.fr +33 (0)5 53 60 84 88