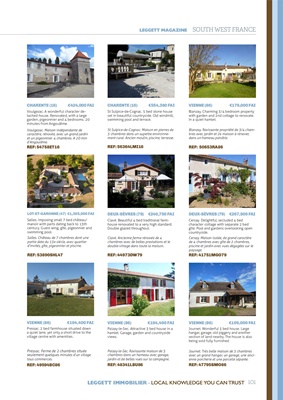 101
VIENNE (86) €194,400 FAI
Paizay-le-Sec. Attractive 3 bed house in a
hamlet. Garage, garden and countryside
views.
Paizay-le-Sec. Ravissante maison de 3
chambres dans un hameau avec garage,
jardin et de belles vues sur la campagne.
REF: 48341LBU86
CHARENTE (16) €424,000 FAI
Voulgezac. A wonderful character detached house.
Renovated, with a large
garden, pigeonnier and 4 bedrooms. 20
minutes from Angoulême.
Voulgezac. Maison indépendante de
caractère, rénovée, avec un grand jardin
et un pigeonnier. 4 chambres. A 20 min
d'Angoulême.
REF: 54758ET16
CHARENTE (16) €554,380 FAI
St Sulpice-de-Cognac. 5 bed stone house
set in beautiful countryside. Old windmill,
swimming pool and terrace.
St Sulpice-de-Cognac. Maison en pierres de
5 chambres dans un superbe environnement rural.
Ancien moulin, piscine, terrasse.
REF: 56364LMI16
VIENNE (86) €179,000 FAI
Blanzay. Charming 3/4 bedroom property
with garden and 2nd cottage to renovate.
In a quiet hamlet.
Blanzay. Ravissante propriété de 3/4 chambres avec jardin et 2e maison à rénover,
dans un hameau paisible.
REF: 50653RA86
LOT-ET-GARONNE (47) €1,385,000 FAI
Salles. Imposing small 7 bed château/
manoir with parts dating back to 13th
century. Guest wing, gÎte, pigeonnier and
swimming pool.
Salles. Château de 7 chambres dont une
partie date du 13e siècle, avec quartier
d'invités, gîte, pigeonnier et piscine.
REF: 53890SHL47
DEUX-SÈVRES (79) €240,750 FAI
Clavé. Beautiful 4 bed traditional farmhouse renovated
to a very high standard.
Double glazed throughout.
Clavé. Ancienne ferme rénovée de 4
chambres avec de belles prestations et le
double-vitrage dans toute la maison.
REF: 44973DW79
VIENNE (86) €109,000 FAI
Journet. Wonderful 3 bed house. Large
hangar, garage, old piggery and another
section of land nearby. The house is also
being sold fully furnished
Journet. Très belle maison de 3 chambres
avec un grand hangar, un garage, une ancienne porcherie
et une parcelle séparée.
REF: 47795SMO86
DEUX-SÈVRES (79) €267,500 FAI
Cersay. Delightful, secluded 4 bed
character cottage with separate 2 bed
gÎte. Pool and gardens overlooking open
countryside.
Cersay. Maison isolée, de grand caractère
de 4 chambres avec gîte de 2 chambres,
piscine et jardin avec vues dégagées sur le
paysage.
REF: 41751MGO79
VIENNE (86) €194,400 FAI
Pressac. 2 bed farmhouse situated down
a quiet lane, yet only a short drive to the
village centre with amenities.
Pressac. Ferme de 2 chambres située
seulement quelques minutes d'un village
tous commerces.
REF: 49594BC86
LEGGETT IMMOBILIER - LOCAL KNOWLEDGE YOU CAN TRUST
LEGGETT MAGAZINE SOUTH WEST FRANCE