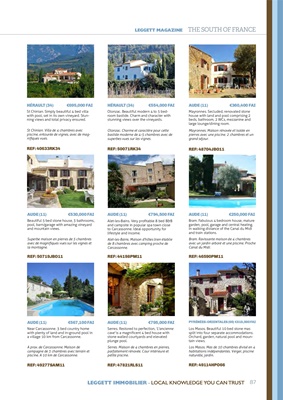 87
HÉRAULT (34) €695,000 FAI
St Chinian. Simply beautiful 4 bed villa
with pool, set in its own vineyard. Stunning views
and total privacy ensured.
St Chinian. Villa de 4 chambres avec
piscine, entourée de vignes, avec de magnifiques vues.
REF: 40633RK34
HÉRAULT (34) €554,000 FAI
Olonzac. Beautiful modern 4 to 5 bedroom
bastide. Charm and character with
stunning views over the vineyards.
Olonzac. Charme et caractère pour cette
bastide moderne de 4-5 chambres avec de
superbes vues sur les vignes.
REF: 50071RK34
AUDE (11) €360,400 FAI
Mayronnes. Secluded, renovated stone
house with land and pool comprising 2
beds, bathroom, 2 WCs, mezzanine and
large lounge/dining room.
Mayronnes. Maison rénovée et isolée en
pierres avec une piscine. 2 chambres et un
grand séjour.
REF: 48704JBO11
AUDE (11) €530,000 FAI
Beautiful 5 bed stone house, 3 bathrooms,
pool, barn/garage with amazing vineyard
and mountain views.
Superbe maison en pierres de 5 chambres
avec de magnifiques vues sur les vignes et
la montagne.
REF: 50719JBO11
AUDE (11) €794,500 FAI
Alet-les-Bains. Very profitable 8 bed B&B
and campsite in popular spa town close
to Carcassonne. Ideal opportunity for
lifestyle and income.
Alet-les-Bains. Maison d'hôtes bien établie
de 8 chambres avec camping proche de
Carcassonne.
REF: 44198PM11
AUDE (11) €250,000 FAI
Bram. Fabulous 4 bedroom house, mature
garden, pool, garage and central heating.
In walking distance of the Canal du Midi
and train stations.
Bram. Ravissante maison de 4 chambres
avec un jardin arboré et une piscine. Proche
Canal du Midi.
REF: 46590PM11
AUDE (11) €567,100 FAI
Near Carcassonne. 3 bed country home
with plenty of land and in-ground pool in
a village 10 km from Carcassonne.
A prox. de Carcassonne. Maison de
campagne de 3 chambres avec terrain et
piscine. A 10 km de Carcassonne.
REF: 49277SAM11
AUDE (11) €795,000 FAI
Serres. Restored to perfection, 'L'ancienne
cave' is a magnificent 4 bed house with
stone walled courtyards and elevated
plunge pool.
Serres. Maison de 4 chambres en pierres,
parfaitement rénovée. Cour intérieure et
petite piscine.
REF: 47821RLS11
PYRÉNÉES-ORIENTALES (66) €819,000 FAI
Los Masos. Beautiful 10 bed stone mas
split into four separate accommodations.
Orchard, garden, natural pool and mountain views.
Los Masos. Mas de 10 chambres divisé en 4
habitations indépendantes. Verger, piscine
naturelle, jardin.
REF: 49114HPO66
LEGGETT MAGAZINE THE SOUTH OF FRANCE
LEGGETT IMMOBILIER - LOCAL KNOWLEDGE YOU CAN TRUST