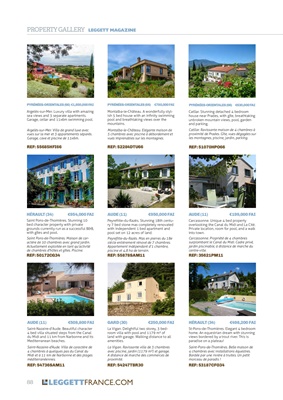 PYRÉNÉES-ORIENTALES (66) €1,650,000 FAI
Argelès-sur-Mer. Luxury villa with amazing
sea views and 3 separate apartments.
Garage, cellar and 11x6m swimming pool.
Argelès-sur-Mer. Villa de grand luxe avec
vues sur la mer et 3 appartements séparés.
Garage, cave et piscine de 11x6m.
REF: 55685HFI66
PYRÉNÉES-ORIENTALES (66) €780,000 FAI
Montalba-le-Château. A wonderfully stylish 5 bed house with an infinity swimming
pool and breathtaking views over the
mountains.
Montalba-le-Château. Elégante maison de
5 chambres avec piscine à débordement et
vues imprenables sur les montagnes.
REF: 52284DTU66
HÉRAULT (34) €954,000 FAI
Saint Pons-de-Thomières. Stunning 10
bed character property with private
grounds currently run as a successful B&B,
with gÎtes and pool.
Saint Pons-de-Thomières. Maison de caractère de 10 chambres avec grand
jardin.
Actuellement exploitée en tant qu'activité
de chambres d'hôtes et gîtes. Piscine.
REF: 50172CG34
PYRÉNÉES-ORIENTALES (66) €630,000 FAI
Catllar. Stunning detached 4 bedroom
house near Prades, with gÎte, breathtaking
unbroken mountain views, pool, garden
and parking.
Catllar. Ravissante maison de 4 chambres à
proximité de Prades. Gîte, vues dégagées sur
les montagnes, piscine, jardin, parking.
REF: 51070HPO66
AUDE (11) €950,000 FAI
Peyrefitte-du-Razès. Stunning 18th century 7 bed stone mas completely
renovated
with independent 1 bed apartment and
pool set on 12 acres of land.
Peyrefitte-du-Razès. Mas en pierres du 18e
siècle entièrement rénové de 7 chambres.
Appartement indépendant d'1 chambre,
piscine et 4,8 ha de terrain.
REF: 55878SAM11
AUDE (11) €199,000 FAI
Carcassonne. Unique 4 bed property
overlooking the Canal du Midi and La Cité.
Private location, room for pool, and a walk
into town.
Carcassonne. Propriété de 4 chambres
surplombant le Canal du Midi. Cadre privé,
jardin piscinable, à distance de marche du
centre-ville.
REF: 35621PM11
AUDE (11) €508,800 FAI
Saint-Nazaire-d'Aude. Beautiful character
4 bed villa situated steps from the Canal
du Midi and 11 km from Narbonne and its
Mediterranean beaches.
Saint-Nazaire-d'Aude. Villa de caractère de
4 chambres à quelques pas du Canal du
Midi et à 11 km de Narbonne et des plages
méditerranéennes.
REF: 54736SAM11
GARD (30) €250,000 FAI
La Vigan. Delightful two storey, 3 bedroom
villa with pool and 1179 m² of
land with garage. Walking distance to all
amenities.
La Vigan. Ravissante villa de 3 chambres
avec piscine, jardin (1179 m²) et garage.
A distance de marche des commerces de
proximité.
REF: 54247TBR30
HÉRAULT (34) €498,200 FAI
St-Pons-de-Thomières. Elegant 4 bedroom
home. An equestrian dream with stunning
views bordered by a trout river. This is
paradise on a plateau!
Saint-Pons-de-Thomières. Belle maison de
4 chambres avec installations équestres.
Bordée par une rivière à truites. Un petit
morceau de paradis !
REF: 53187CFO34
PROPERTY GALLERY LEGGETT MAGAZINE