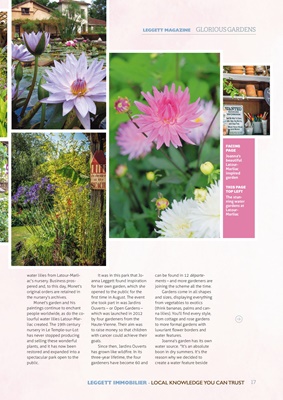 LEGGETT IMMOBILIER - LOCAL KNOWLEDGE YOU CAN TRUST 17
LEGGETT MAGAZINE GLORIOUS GARDENS
FACING
PAGE
Joanna's
beautiful
Latour-
Marliac
inspired
garden
THIS PAGE
TOP LEFT
The stunning water
gardens at
LatourMarliac
water lilies from Latour-Marliac's nursery.
Business prospered
and, to this day, Monet's
original orders are retained in
the nursery's archives.
Monet's garden and his
paintings continue to enchant
people worldwide, as do the colourful water lilies Latour-Marliac
created.
The 19th century
nursery in Le Temple-sur-Lot
has never stopped producing
and selling these wonderful
plants, and it has now been
restored and expanded into a
spectacular park open to the
public.
It was in this park that Joanna Leggett
found inspiration
for her own garden, which she
opened to the public for the
first time in August. The event
she took part in was Jardins
Ouverts - or Open Gardens -
which was launched in 2012
by four gardeners from the
Haute-Vienne. Their aim was
to raise money so that children
with cancer could achieve their
goals.
Since then, Jardins Ouverts
has grown like wildfire. In its
three-year lifetime, the four
gardeners have become 60 and
can be found in 12 départements
- and more gardeners are
joining the scheme all the time.
Gardens come in all shapes
and sizes, displaying everything
from vegetables to exotics
(think bananas, palms and canna lilies). You'll
find every style,
from cottage and rose gardens
to more formal gardens with
luxuriant flower borders and
water features.
Joanna's garden has its own
water source. "It's an absolute
boon in dry summers. It's the
reason why we decided to
create a water feature beside