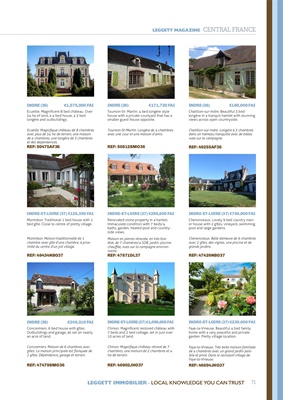 71
INDRE (36) €1,575,000 FAI
Ecueille. Magnificent 8 bed château. Over
54 ha of land, a 4 bed house, a 3 bed
longère and outbuildings.
Ecueille. Magnifique château de 8 chambres
avec plus de 54 ha de terrain, une maison
de 4 chambres, une longère de 3 chambres
et des dépendances.
REF: 50475AF36
INDRE (36) €171,720 FAI
Tournon-St- Martin. 4 bed longère style
house with a private courtyard that has a
smaller guest house opposite.
Tournon-St-Martin. Longère de 4 chambres
avec une cour et une maison d'amis.
REF: 50812SMO36
INDRE (36) €180,000 FAI
Chatillon-sur-Indre. Beautiful 3 bed
longère in a tranquil hamlet with stunning
views across open countryside.
Chatillon-sur-Indre. Longère à 3 chambres
dans un hameau tranquille avec de belles
vues sur la campagne.
REF: 49255AF36
INDRE-ET-LOIRE (37) €125,350 FAI
Montrésor. Traditional 1 bed house with 1
bed gîte. Close to centre of pretty village.
Montrésor. Maison traditionnelle de 1
chambre avec gîte d'une chambre, à proximité du centre d'un joli village.
REF: 49434NBO37
INDRE-ET-LOIRE (37) €296,800 FAI
Renovated stone property in a hamlet.
Immaculate condition with 7 beds/4
baths, garden, heated pool and countryside views.
Maison en pierres rénovée, en très bon
état, de 7 chambres/4 SDB, jardin, piscine
chauffée, vues sur la campagne environnante.
REF: 47871DL37
INDRE-ET-LOIRE (37) €798,000 FAI
Chenonceaux. Lovely 9 bed country manor house with 2 gîtes, vineyard,
swimming
pool and large gardens.
Chenonceaux. Belle demeure de 9 chambres
avec 2 gîtes, des vignes, une piscine et de
grands jardins.
REF: 47426NBO37
INDRE (36) €249,310 FAI
Concremiers. 6 bed house with gîtes.
Outbuildings and garage, all set on nearly
an acre of land.
Concremiers. Maison de 6 chambres avec
gîtes. La maison principale est flanquée de
2 gîtes. Dépendance, garage et terrain.
REF: 47479SMO36
INDRE-ET-LOIRE (37) €1,090,000 FAI
Chinon. Magnificent restored château with
7 beds and 2 bed cottage, set in just over
10 acres of land.
Chinon. Magnifique château rénové de 7
chambres, une maison de 2 chambres et 4
ha de terrain.
REF: 46902JHO37
INDRE-ET-LOIRE (37) €230,000 FAI
Faye-la-Vineuse. Beautiful 4 bed family
home with a very peaceful and private
garden. Pretty village location.
Faye-la-Vineuse. Très belle maison familiale
de 4 chambres avec un grand jardin paisible et privé. Dans le ravissant
village de
Faye-la-Vineuse.
REF: 46894JHO37
LEGGETT IMMOBILIER - LOCAL KNOWLEDGE YOU CAN TRUST
LEGGETT MAGAZINE CENTRAL FRANCE