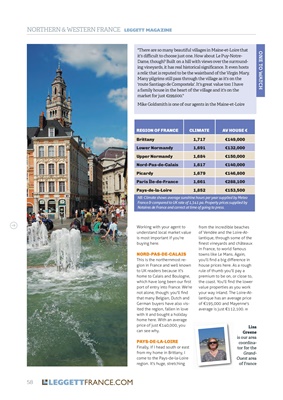 Lisa
Greene
is our area
coordinator
for the
GrandOuest
area
of France
REGION OF FRANCE
CLIMATE
AV HOUSE €
Brittany 1,717 €149,000
Lower Normandy 1,691 €132,000
Upper Normandy 1,684 €150,000
N o r d - P a s - d e - C a l a i s 1,617 €140,000
Picardy 1,679 €146,800
Paris Île-de-France 1,661 €288,100
Pays-de-la-Loire 1,852 €153,500
NB : Climate shows average sunshine hours per year supplied by Meteo
France & compared to UK rate of 1,341 pa. Property prices supplied by
Notaires de France and correct at time of going to press.
Working with your agent to
understand local market value
is most important if you're
buying here.
NORD-PAS-DE-CALAIS
This is the northernmost region in France
and well known
to UK readers because it's
home to Calais and Boulogne,
which have long been our first
port of entry into France. We're
not alone, though: you'll find
that many Belgian, Dutch and
German buyers have also visited the region,
fallen in love
with it and bought a holiday
home here. With an average
price of just €140,000, you
can see why.
PAYS-DE-LA-LOIRE
Finally, if I head south or east
from my home in Brittany, I
come to the Pays-de-la-Loire
region. It's huge, stretching
from the incredible beaches
of Vendée and the Loire-Atlantique,
through some of the
finest vineyards and châteaux
in France, to world famous
towns like Le Mans. Again,
you'll find a big difference in
house prices here. As a rough
rule of thumb you'll pay a
premium to be on, or close to,
the coast. You'll find the lower
value properties as you work
your way inland. The Loire-Atlantique has an average
price
of €195,000 and Mayenne's
average is just €112,100.
"There are so many beautiful villages in Maine-et-Loire that
it's difficult to choose just one. How about Le Puy-NotreDame,
though? Built on a hill with views over the surrounding vineyards,
it has real historical significance. It even hosts
a relic that is reputed to be the waistband of the Virgin Mary.
Many pilgrims still pass through the village as it's on the
'route Santiago de Compostela'. It's great value too: I have
a family house in the heart of the village and it's on the
market for just €299,600."
Mike Goldsmith is one of our agents in the Maine-et-Loire ONE TO WATCH
NORTHERN & WESTERN FRANCE LEGGETT MAGAZINE