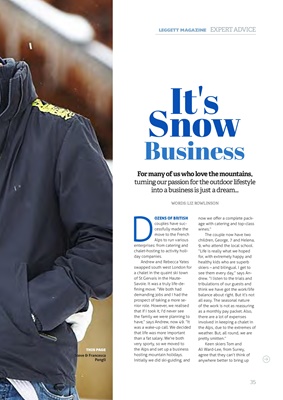 35
It's
Snow
Business
For many of us who love the mountains,
turning our passion for the outdoor lifestyle
into a business is just a dream...
THIS PAGE
Steve & Francesca
Pangli
LEGGETT MAGAZINE EXPERT ADVICE
D
OZENS OF BRITISH
couples have successfully
made the
move to the French
Alps to run various
enterprises: from catering and
chalet-hosting to activity holiday companies.
Andrew and Rebecca Yates
swapped south west London for
a chalet in the quaint ski town
of St Gervais in the HauteSavoie.
It was a truly life-defining move.
"We both had
demanding jobs and I had the
prospect of taking a more senior role.
However, we realised
that if I took it, I'd never see
the family we were planning to
have," says Andrew, now 49. "It
was a wake-up call. We decided
that life was more important
than a fat salary. We're both
very sporty, so we moved to
the Alps and set up a business
hosting mountain holidays.
Initially we did ski-guiding, and
WORDS: LIZ ROWLINSON
now we offer a complete package
with catering and top-class
wines."
The couple now have two
children, George, 7 and Helena,
9, who attend the local school.
"Life is really what we hoped
for, with extremely happy and
healthy kids who are superb
skiers - and bilingual. I get to
see them every day," says Andrew.
"I listen to the trials and
tribulations of our guests and
think we have got the work/life
balance about right. But it's not
all easy. The seasonal nature
of the work is not as reassuring
as a monthly pay packet. Also,
there are a lot of expenses
involved in keeping a chalet in
the Alps, due to the extremes of
weather. But, all round, we are
pretty smitten."
Keen skiers Tom and
Ali Ward-Lee, from Surrey,
agree that they can't think of
anywhere better to bring up