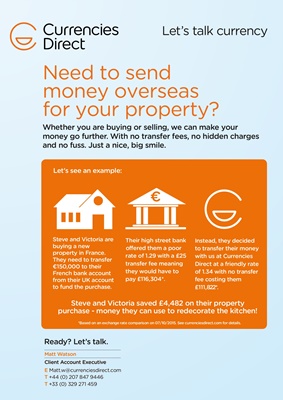 Let's talk currency
Ready? Let's talk.
Matt Watson
Client Account Executive
E matt.w@currenciesdirect.comenciesdirect.com" target="_blank" title="Visit currenciesdirect.com">currenciesdirect.com
T +44 (0) 207 847 9446
T +33 (0) 329 271 459
Let's see an example:
Steve and Victoria saved £4,482 on their property
purchase - money they can use to redecorate the kitchen!
Steve and Victoria are
buying a new
property in France.
They need to transfer
€150,000 to their
French bank account
from their UK account
to fund the purchase.
Their high street bank
offered them a poor
rate of 1.29 with a £25
transfer fee meaning
they would have to
pay £116,304*.
Instead, they decided
to transfer their money
with us at Currencies
Direct at a friendly rate
of 1.34 with no transfer
fee costing them
£111,822*.
Need to send
money overseas
for your property?
Whether you are buying or selling, we can make your
money go further. With no transfer fees, no hidden charges
and no fuss. Just a nice, big smile.
*Based on an exchange rate comparison on 07/10/2015. See currenciesdirect.com for details.