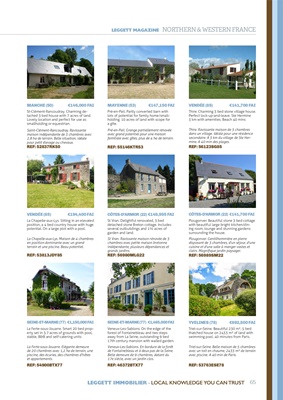 65
MANCHE (50) €146,000 FAI
St-Clément-Rancoudray. Charming detached 3 bed house with 7 acres
of land.
Lovely location and perfect for use as
smallholding or equestrian.
Saint-Clément-Rancoudray. Ravissante
maison indépendante de 3 chambres avec
2,8 ha de terrain. Belle situation, idéale
pour petit élevage ou chevaux.
REF: 52837RK50
MAYENNE (53) €147,150 FAI
Pré-en-Pail. Partly converted barn with
lots of potential for family home/smallholding.
10 acres of land with scope for
a gîte.
Pré-en-Pail. Grange partiellement rénovée
avec grand potentiel pour une maison
familiale avec gîtes, plus de 4 ha de terrain.
REF: 55146KTR53
VENDÉE (85) €141,700 FAI
Thire. Charming 3 bed stone village house.
Perfect lock-up-and-leave. Ste Hermine
3 km with amenities. Beach 40 mins
Thire. Ravissante maison de 3 chambres
dans un village. Idéale pour une résidence
secondaire. A 3 km du village de Ste Hermine. A 40 min des plages.
REF: 56123SG85
VENDÉE (85) €194,400 FAI
La Chapelle-aux-Lys. Sitting in an elevated
position, a 4 bed country house with huge
potential. On a large plot with a pool.
La Chapelle-aux-Lys. Maison de 4 chambres
en position dominante avec un grand
terrain et une piscine. Beau potentiel.
REF: 53813JDY85
CÔTES-D'ARMOR (22) €149,995 FAI
St Vran. Delightful renovated, 3 bed
detached stone Breton cottage. Includes
several outbuildings and 1½ acres of
garden and land.
St Vran. Ravissante maison rénovée de 3
chambres avec petite maison bretonne
indépendante, plusieurs dépendances et
grands jardins.
REF: 56980MLG22
CÔTES-D'ARMOR (22) €141,700 FAI
Plougonver. Beautiful stone 3 bed cottage
with beautiful large bright kitchen/dining room,
lounge and stunning gardens
surrounding the house.
Plougonver. Gentilhommière en pierre
disposant de 3 chambres, d'un séjour, d'une
cuisine et d'une salle à manger vastes et
clairs. Magnifique jardin paysager.
REF: 56989SM22
SEINE-ET-MARNE (77) €1,150,000 FAI
La Ferte-sous-Jouarre. Smart 20 bed property set in 3.7 acres
of grounds with pool,
stable, B&B and self-catering units
La Ferte-sous-Jouarre. Elégante demeure
de 20 chambres avec 1,2 ha de terrain, une
piscine, des écuries, des chambres d'hôtes
et appartements.
REF: 54900BTX77
SEINE-ET-MARNE (77) €1,485,000 FAI
Veneux-Les-Sablons. On the edge of the
forest of Fontainebleau and two steps
away from La Seine, outstanding 9 bed
17th century mansion with walled garden.
Veneux-Les-Sablons. En bordure de la forêt
de Fontainebleau et à deux pas de la Seine.
Belle demeure de 9 chambres, datant du
17e siècle, avec un jardin clos.
REF: 46372BTX77
YVELINES (78) €892,500 FAI
Triel-sur-Seine. Beautiful 230 m², 5 bed
thatched house on 2433 m² of land with
swimming pool. 40 minutes from Paris.
Triel-sur-Seine. Belle maison de 5 chambres
avec un toit en chaume, 2433 m² de terrain
avec piscine. A 40 min de Paris.
REF: 53763ESE78
LEGGETT IMMOBILIER - LOCAL KNOWLEDGE YOU CAN TRUST
LEGGETT MAGAZINE NORTHERN & WESTERN FRANCE