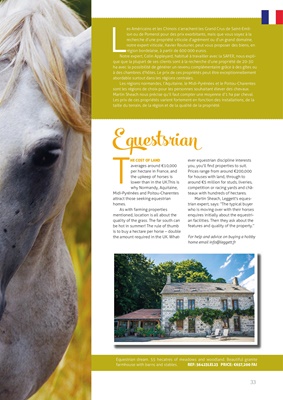 33
L
es Américains et les Chinois s'arrachent les Grand Crus de Saint-Emilion ou de Pomerol
pour des prix exorbitants, mais que vous soyez à la
recherche d'une propriété viticole d'agrément ou d'un grand domaine,
notre expert viticole, Xavier Routurier, peut vous proposer des biens, en
région bordelaise, à partir de 600  000 euros.
Notre expert, Colin Appleyard, habitué à travailler avec la SAFER, nous explique que la plupart de ses clients sont à la recherche
d'une propriété de 20-30
ha avec la possibilité de générer un revenu complémentaire grâce à des gîtes ou
à des chambres d'hôtes. Le prix de ces propriétés peut être exceptionnellement
abordable surtout dans les régions centrales.
Les régions normandes, l'Aquitaine, le Midi-Pyrénées et le Poitou-Charentes
sont les régions de choix pour les personnes souhaitant élever des chevaux.
Martin Sheach nous précise qu'il faut compter une moyenne d'1 ha par cheval.
Les prix de ces propriétés varient fortement en fonction des installations, de la
taille du terrain, de la région et de la qualité de la propriété.
Equestrian dream. 55 hecatres of meadows and woodland. Beautiful granite
farmhouse with barns and stables. REF: 56423LEL23 PRICE: €657,200 FAI
T
HE COST OF LAND
averages  around €10,000
per hectare in France, and
the upkeep of horses is
lower than in the UK. This is
why Normandy, Aquitaine,
Midi-Pyrénées and Poitou-Charentes
attract those seeking equestrian
homes.
As with farming properties
mentioned, location is all about the
quality of the grass. The far south can
be hot in summer! The rule of thumb
is to buy a hectare per horse - double
the amount required in the UK. WhatEquestsrianever
equestrian discipline interests
you, you'll find properties to suit.
Prices range from around €200,000
for houses with land, through to
around €5 million for studs, liveries,
competition or racing yards and châteaux with hundreds
of hectares.
Martin Sheach, Leggett's equestrian expert,
says:  "The typical buyer
who is moving over with their horses
enquires initially about the equestrian facilities.
Then they ask about the
features and quality of the property."
For help and advice on buying a hobby
home email info@leggett.frttp://leggett.fr" target="_blank" title="Visit leggett.fr">leggett.fr