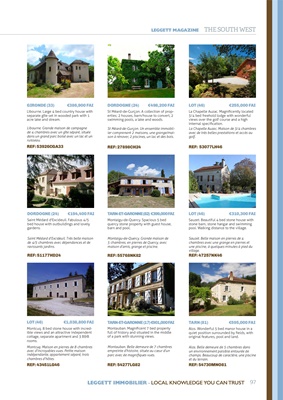 LEGGETT IMMOBILIER - LOCAL KNOWLEDGE YOU CAN TRUST 97
LEGGETT MAGAZINE THE SOUTH WEST
TARN-ET-GARONNE (17) €901,000 FAI
Montauban. Magnificent 7 bed property
full of history and situated in the middle
of a park with stunning views.
Montauban. Belle demeure de 7 chambres
empreinte d'histoire, située au cœur d'un
parc avec de magnifiques vues.
REF: 54277LG82
GIRONDE (33) €386,900 FAI
Libourne. Large 4 bed country house with
separate gîte set in wooded park with 1
acre lake and stream.
Libourne. Grande maison de campagne
de 4 chambres avec un gîte séparé, située
dans un grand parc boisé avec un lac et un
ruisseau.
REF: 53926CGA33
DORDOGNE (24) €498,200 FAI
St Méard-de-GurÇon. A collection of properties; 2 houses, barn/house to convert,
2
swimming pools, a lake and woods.
St Méard-de-Gurçon. Un ensemble immobilier comprenant 2 maisons, une grange/maison
à rénover,
2 piscines, un lac et des bois.
REF: 27898CH24
LOT (46) €255,000 FAI
La Chapelle Auzac. Magnificently located
3/4 bed freehold lodge with wonderful
views over the golf course and a high
internal specification.
La Chapelle Auzac. Maison de 3/4 chambres
avec de très belles prestations et accès au
golf.
REF: 53077LH46
DORDOGNE (24) €194,400 FAI
Saint Médard d'Excideuil. Fabulous 4/5
bed house with outbuildings and lovely
gardens.
Saint Médard d'Excideuil. Très belle maison
de 4/5 chambres avec dépendances et de
ravissants jardins.
REF: 51177HD24
TARN-ET-GARONNE (82) €399,000 FAI
Montaigu-de-Quercy. Spacious 5 bed
quercy stone property with guest house,
barn and pool.
Montaigu-de-Quercy. Grande maison de
5 chambres, en pierres de Quercy, avec
maison d'amis, grange et piscine.
REF: 55768NK82
TARN (81) €595,000 FAI
Alos. Wonderful 5 bed manor house in a
quiet position surrounded by fields, with
original features, pool and land.
Alos. Belle demeure de 5 chambres dans
un environnement paisible entourée de
champs. Beaucoup de caractère, une piscine
et du terrain.
REF: 54730MNO81
LOT (46) €310,300 FAI
Sauzet. Beautiful 4 bed stone house with
stone barn, stone hangar and swimming
pool. Walking distance to the village.
Sauzet. Belle maison en pierres de 4
chambres avec une grange en pierres et
une piscine, à quelques minutes à pied du
village.
REF: 47257NK46
LOT (46) €1,038,800 FAI
Montcuq. 8 bed stone house with incredible views
and an attractive independent
cottage, separate apartment and 3 B&B
rooms.
Montcuq. Maison en pierres de 8 chambres
avec d'incroyables vues. Petite maison
indépendante, appartement séparé, trois
chambres d'hôtes.
REF: 43451LG46