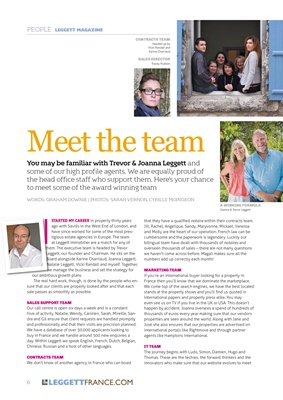 PEOPLE LEGGETT MAGAZINE
that they have a qualified notaire within their contracts team.
Jill, Rachel, Angelique, Sandy, Maryvonne, Mickael, Vanessa
and Molly are the heart of our operation. French law can be
cumbersome and the paperwork is legendary. Luckily our
bilingual team have dealt with thousands of notaires and
overseen thousands of sales - there are not many questions
we haven't come across before. Magali makes sure all the
numbers add up correctly each month!
MARKETING TEAM
If you're an international buyer looking for a property in
France then you'll know that we dominate the marketplace.
We come top of the search engines, we have the best located
stands at the property shows and you'll find us quoted in
International papers and property press alike. You may
even see us on TV if you live in the UK or USA. This doesn't
happen by accident. Joanna oversees a spend of hundreds of
thousands of euros every year making sure that our vendors
properties are seen around the world. Along with Jane and
José she also ensures that our properties are advertised on
international portals like Rightmove and through partner
agents like Hamptons International.
IT TEAM
The journey begins with Ludo, Simon, Damien, Hugo and
Thomas. These are the techies, the forward thinkers and the
innovators who make sure that our website evolves to meet
Meet the team
You may be familiar with Trevor & Joanna Leggett and
some of our high profile agents. We are equally proud of
the head office staff who support them. Here's your chance
to meet some of the award winning team
WORDS: GRAHAM DOWNIE | PHOTOS: SARAH VERNON, CYRILLE MOINGEON
A WINNING FORMULA
Joanna & Trevor Leggett
CONTRACTS TEAM
Headed up by
Vicki Randall and
Karine Charriaud
SALES DIRECTOR
Tracey Hudson
ISTARTED MY CAREER in property thirty years
ago with Savills in the West End of London,  and
have since worked for some of the most prestigious estate agencies
in Europe. The team
at Leggett Immobilier are a match for any of
them. The executive team is headed by Trevor
Leggett, our founder and Chairman. He sits on the
Board alongside Karine Charriaud, Joanna Leggett,
Natalie Leggett, Vicki Randall and myself. Together,
we manage the business and set the strategy for
our ambitious growth plans.
The real hard work, though, is done by the people who ensure
that our clients are properly looked after and that each
sale passes as smoothly as possible.
SALES SUPPORT TEAM
Our call centre is open six days a week and is a constant
hive of activity. Natalie, Wendy, Carolien, Sarah, Mireille, Sandra
and Gil ensure that client requests are handled promptly
and professionally and that their visits are precision planned.
We have a database of over 30,000 applicants looking to
buy in France and we handle around 500 new enquiries a
day. Within Leggett we speak English, French, Dutch, Belgian,
Chinese, Russian and a host of other languages.
CONTRACTS TEAM
We don't know of another agency in France who can boast