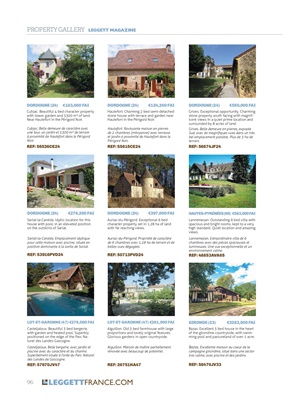 96
PROPERTY GALLERY LEGGETT MAGAZINE
DORDOGNE (24) €183,600 FAI
Cubjac. Beautiful 4 bed character property
with tower, garden and 5300 m² of land.
Near Hautefort in the Périgord Noir.
Cubjac. Belle demeure de caractère avec
une tour, un jardin et 5300 m² de terrain
à proximité de Hautefort dans le Périgord
Noir.
REF: 56536CE24
DORDOGNE (24) €124,260 FAI
Hautefort. Charming 2 bed semi-detached
stone house with terrace and garden near
Hautefort in the Périgord Noir.
Hautefort. Ravissante maison en pierres
de 2 chambres (mitoyenne) avec terrasse
et jardin à proximité de Hautefort dans le
Périgord Noir.
REF: 55615CE24
DORDOGNE (24) €550,000 FAI
Grives. Exceptional opportunity. Charming
stone property south facing with magnificent
views in a quiet prime location and
surrounded by 8 acres of land.
Grives. Belle demeure en pierres, exposée
Sud, avec de magnifiques vues dans un très
bel emplacement paisible. Plus de 3 ha de
terrain.
REF: 56674JF24
DORDOGNE (24) €278,200 FAI
Sarlat-la-Canéda. Idyllic location for this
house with pool, in an elevated position
on the outskirts of Sarlat.
Sarlat-la-Canéda. Emplacement idyllique
pour cette maison avec piscine, située en
position dominante à la sortie de Sarlat.
REF: 53916PVD24
DORDOGNE (24) €397,000 FAI
Auriac-du-Périgord. Exceptional 6 bed
character property set in 1,28 ha of land
with far reaching views.
Auriac-du-Périgord. Propriété de caractère
de 6 chambres avec 1,28 ha de terrain et de
belles vues dégagées.
REF: 50713PVD24
HAUTES-PYRÉNÉES (65) €583,000 FAI
Lannemezan. Outstanding 6 bed villa with
spacious and bright rooms, kept to a very
high standard. Quiet location and amazing
views.
Lannemezan. Extraordinaire villa de 6
chambres avec des pièces spacieuses et
lumineuses. Une vue exceptionnelle et un
environnement calme.
REF: 48853AVA65
LOT-ET-GARONNE (47) €278,000 FAI
Casteljaloux. Beautiful 3 bed bergerie,
with garden and heated pool. Superbly
positioned on the edge of the Parc Naturel
des Landes Gascogne.
Casteljaloux. Belle bergerie, avec jardin et
piscine avec du caractère et du charme.
Superbement située à l'orée du Parc Naturel
des Landes de Gascogne.
REF: 57670JV47
LOT-ET-GARONNE (47) €281,000 FAI
Aiguillon. Old 3 bed farmhouse with large
proportions and lovely original features.
Glorious gardens in open countryside.
Aiguillon. Maison de maÎtre partiellement
rénovée avec beaucoup de potentiel.
REF: 26751HA47
GIRONDE (33) €3283,500 FAI
Bazas. Excellent 3 bed house in the heart
of the girondine countryside, with swimming pool and pastureland
of over 1 acre.
Bazas. Excellente maison au coeur de la
campagne girondine, situé dans une sector
tres calme, avec piscine et des jardins.
REF: 58470JV33