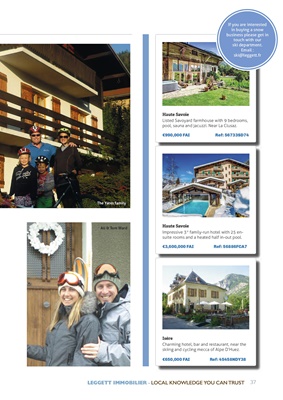 37
Ali & Tom Ward
The Yates family
Haute Savoie
Listed Savoyard farmhouse with 9 bedrooms,
pool, sauna and jacuzzi. Near La Clusaz.
€990,000 FAI Ref: 56733SD74
If you are interested
in buying a snow
business please get in
touch with our
ski department.
Email :
ski@leggett.frttp://leggett.fr" target="_blank" title="Visit leggett.fr">leggett.fr
Haute Savoie
Impressive 3* family-run hotel with 25 ensuite rooms
and a heated half in-out pool.
€3,600,000 FAI Ref: 56886FCA7
Isère
Charming hotel, bar and restaurant, near the
skiing and cycling mecca of Alpe D'Huez.
€650,000 FAI Ref: 45458NDY38
LEGGETT IMMOBILIER - LOCAL KNOWLEDGE YOU CAN TRUST