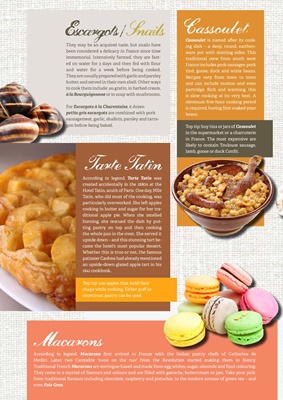 Escargots / SnailsThey may be an acquired taste, but snails have
been considered a delicacy in France since time
immemorial. Intensively farmed, they are fasted
on water for 3 days and then fed with flour
and water for a week before being cooked.
They are usually prepared with garlic and parsley
butter, and served in their own shell. Other ways
to cook them include: au gratin, in herbed cream,
à la Bourguignonne or in soup with mushrooms.
For Escargots à la Charentaise, 6 dozen
petits gris escargots are combined with pork
sausagemeat, garlic, shallots, parsley and tarragon
before being baked.
Tarte Tatin
Macarons According to legend, Macarons first arrived in France with the Italian pastry chefs of Catherine de
Medici. Later, two Carmelite 'nuns on the run' from the Revolution started making them in Nancy.
Traditional French Macarons are meringue-based and made from egg whites, sugar, almonds and food colouring.
They come in a myriad of flavours and colours and are filled with ganache, buttercream or jam. Take your pick:
from traditional flavours including chocolate, raspberry and pistachio, to the modern aromas of green tea - and
even Foie Gras.
According to legend, Tarte Tatin was
created accidentally in the 1880s at the
Hotel Tatin, south of Paris. One day, Mlle
Tatin, who did most of the cooking, was
particularly overworked. She left apples
cooking in butter and sugar for her traditional
apple pie. When she smelled
burning, she rescued the dish by putting pastry
on top and then cooking
the whole pan in the oven. She served it
upside down - and this stunning tart became
the hotel's most popular dessert.
Whether this is true or not, the famous
patissier Carême had already mentioned
an upside-down glazed apple tart in his
1841 cookbook.
Top tip: use apples that hold their
shape while cooking. Either puff or
shortcrust pastry can be used.
Cassoulet is named after its cooking dish - a deep,
round, earthenware
pot with slanting sides. This
traditional stew from south west
France includes pork sausages, pork
rind, goose, duck and white beans.
Recipes vary from town to town
and can include mutton and even
partridge. Rich and warming, this
is slow cooking at its very best. A
minimum five-hour cooking period
is required, having first soaked your
beans.
Top tip: buy tins or jars of Cassoulet
in the supermarket or a charcuterie
in France. The most expensive are
likely to contain Toulouse sausage,
lamb, goose or duck Confit.
Cassoulet