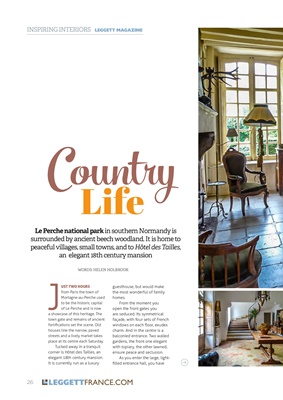 INSPIRING INTERIORS LEGGETT MAGAZINE
J
UST TWO HOURS
from Paris the town of
Mortagne-au-Perche used
to be the historic capital
of Le Perche and is now
a showcase of this heritage. The
town gate and remains of ancient
fortifications set the scene. Old
houses line the narrow, paved
streets and a lively market takes
place at its centre each Saturday.
Tucked away in a tranquil
corner is Hôtel des Tailles, an
elegant 18th century mansion.
It is currently run as a luxury
guesthouse, but would make
the most wonderful of family
homes.
From the moment you
open the front gates you
are seduced. Its symmetrical
façade, with four sets of French
windows on each floor, exudes
charm. And in the centre is a
balconied entrance. Two walled
gardens, the front one elegant
with topiary, the other lawned,
ensure peace and seclusion.
As you enter the large, lightfilled entrance
hall, you have
WORDS: HELEN HOLBROOK
Le Perche national park in southern Normandy is
surrounded by ancient beech woodland. It is home to
peaceful villages, small towns, and to Hôtel des Tailles,
an elegant 18th century mansion
CountryLife