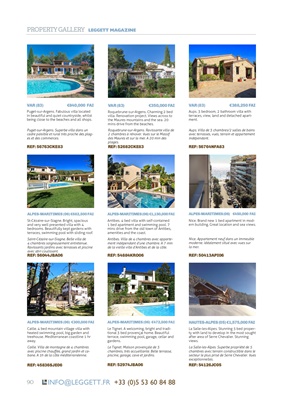 90
VAR (83) €840,000 FAI
Puget-sur-Argens. Fabulous villa located
in beautiful and quiet countryside, whilst
being close to the beaches and all shops.
Puget-sur-Argens. Superbe villa dans un
cadre paisible et rural très proche des plages et des commerces.
REF: 56763CKE83
ALPES-MARITIMES (06) €450,000 FAI
Nice. Brand new 1 bed apartment in modern building.
Great location and sea views.
Nice. Appartement neuf dans un immeuble
moderne. Idéalement situé avec vues sur
la mer.
REF: 50413API06
VAR (83) €388,250 FAI
Aups. 3 bedroom, 2 bathroom villa with
terraces, view, land and detached apartment.
Aups. Villa de 3 chambres/2 salles de bains
avec terrasses, vues, terrain et appartement
indépendant.
REF: 56764NFA83
ALPES-MARITIMES (06) €682,500 FAI
St-Cézaire-sur-Siagne. Bright, spacious
and very well presented villa with 4
bedrooms. Beautifully kept gardens with
terraces, swimming pool with sliding roof.
Saint-Cézaire-sur-Siagne. Belle villa de
4 chambres soigneusement entretenue.
Ravissants jardins avec terrasses et piscine
avec abri coulissant.
REF: 56044JBA06
ALPES-MARITIMES (06) €1,150,000 FAI
Antibes. 4 bed villa with self-contained
1 bed apartment and swimming pool. 7
mins drive from the old town of Antibes,
amenities and the coast.
Antibes. Villa de 4 chambres avec appartement indépendant d'une chambre. A 7 min
de la vieille ville d'Antibes et de la côte.
REF: 54884KRO06
VAR (83) €350,000 FAI
Roquebrune-sur-Argens. Charming 2 bed
villa. Renovation project. Views across to
the Maures mountains and the sea. 20
mins drive from the beaches.
Roquebrune-sur-Argens. Ravissante villa de
2 chambres à rénover. Vues sur le Massif
des Maures et sur la mer. A 20 min des
plages.
REF: 52682CKE83
ALPES-MARITIMES (06) €300,000 FAI
Caille. 4 bed mountain village villa with
heated swimming pool, big garden and
treehouse. Mediterranean coastline 1 hr
away.
Caille. Villa de montagne de 4 chambres
avec piscine chauffée, grand jardin et cabane. A 1h de la côte méditerranéenne.
REF: 45836SJE06
ALPES-MARITIMES (06) €472,500 FAI
Le Tignet. A welcoming, bright and traditional 3 bed provenÇal
home. Beautiful
terrace, swimming pool, garage, cellar and
gardens.
Le Tignet. Maison provençale de 3
chambres, très accueillante. Belle terrasse,
piscine, garage, cave et jardins.
REF: 52974JBA06
HAUTES-ALPES (05) €1,575,000 FAI
La Salle-les-Alpes. Stunning 5 bed property with land to develop
in the most sought
after area of Serre Chevalier. Stunning
views.
La Salle-les-Alpes. Superbe propriété de 5
chambres avec terrain constructible dans le
secteur le plus prisé de Serre Chevalier. Vues
exceptionnelles.
REF: 54126JC05
PROPERTY GALLERY LEGGETT MAGAZINE
info@leggett.frttp://leggett.fr" target="_blank" title="Visit leggett.fr">leggett.fr +33 (0)5 53 60 84 88