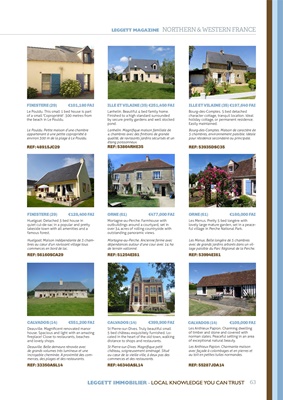 LEGGETT IMMOBILIER - LOCAL KNOWLEDGE YOU CAN TRUST 63
FINISTERE (29) €101,180 FAI
Le Pouldu. This small 1 bed house is part
of a small 'Copropriété'. 300 metres from
the beach in Le Pouldu.
Le Pouldu. Petite maison d'une chambre
appartenant à une petite copropriété à
environ 300 m de la plage à Le Pouldu.
REF: 48915JC29
ILLE ET VILAINE (35) €251,450 FAI
Lanhelin. Beautiful 4 bed family home.
Finished to a high standard surrounded
by secure pretty gardens and well stocked
pond.
Lanhelin. Magnifique maison familiale de
4 chambres avec des finitions de grande
qualité, de ravissants jardins sécurisés et un
étang poissonneux.
REF: 53864RHE35
ILLE ET VILAINE (35) €197,640 FAI
Bourg-des-Comptes. 5 bed detached
character cottage, tranquil location. Ideal
holiday cottage, or permanent residence.
Easily maintained.
Bourg-des-Comptes. Maison de caractère de
5 chambres, environnement paisible. Idéale
pour résidence secondaire ou principale.
REF: 53935DSC35
FINISTERE (29) €128,400 FAI
Huelgoat. Detached 3 bed house in
quiet cul-de-sac in a popular and pretty
lakeside town with all amenities and a
famous forest.
Huelgoat. Maison indépendante de 3 chambres au cœur d'un ravissant
village tous
commerces en bord de lac.
REF: 56160SCA29
ORNE (61) €477,000 FAI
Mortagne-au-Perche. Farmhouse with
outbuildings around a courtyard, set in
over 34 acres of rolling countryside with
outstanding panoramic views.
Mortagne-au-Perche. Ancienne ferme avec
dépendances autour d'une cour avec 14 ha
de terrain vallonné.
REF: 51254EI61
ORNE (61) €160,000 FAI
Les Menus. Pretty 5 bed longère with
lovely large mature garden, set in a peaceful village
in Perche National Park.
Les Menus. Belle longère de 5 chambres
avec de grands jardins arborés dans un village paisible du Parc
Régional de la Perche.
REF: 53994EI61
CALVADOS (14) €551,200 FAI
Deauville. Magnificent renovated manor
house. Spacious and light with an amazing
fireplace! Close to restaurants, beaches
and lovely shops.
Deauville. Belle demeure rénovée avec
de grands volumes très lumineux et une
incroyable cheminée. A proximité des commerces,
des plages et des restaurants.
REF: 33350ASL14
CALVADOS (14) €399,900 FAI
St Pierre-sur-Dives. Truly beautiful small
5 bed château exquisitely furnished. Located in the heart of
the old town, walking
distance to shops and restaurants.
St Pierre-sur-Dives. Magnifique petit
château, soigneusement aménagé. Situé
au cœur de la vieille ville, à deux pas des
commerces et des restaurants.
REF: 46340ASL14
CALVADOS (14) €109,000 FAI
Les Anthieux Papion. Charming dwelling
of timber and stone and covered with
norman slates. Peaceful setting in an area
of exceptional natural beauty.
Les Anthieux Papion. Charmante maison
avec façade à colombages et en pierres et
au toit en petites tuiles normandes.
REF: 55287JDA14
LEGGETT MAGAZINE NORTHERN & WESTERN FRANCE