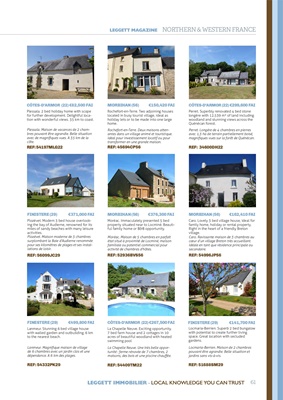 LEGGETT MAGAZINE NORTHERN & WESTERN FRANCE
61
LEGGETT IMMOBILIER - LOCAL KNOWLEDGE YOU CAN TRUST
FINISTERE (29) €371,000 FAI
Plozévet. Modern 3 bed house overlooking the bay of
Audierne, renowned for its
miles of sandy beaches with many leisure
activities.
Plozévet. Maison moderne de 3 chambres
surplombant la Baie d'Audierne renommée
pour ses kilomètres de plages et ses installations de loisir.
REF: 56099JC29
MORBIHAN (56) €376,300 FAI
Moréac. Immaculately presented 5 bed
property situated near to Locminé. Beautiful family
home or B&B opportunity.
Moréac. Maison de 5 chambres en parfait
état situé à proximité de Locminé, maison
familiale ou potentiel commercial pour
activité de chambres d'hôtes.
REF: 52936BVS56
MORBIHAN (56) €162,410 FAI
Caro. Lovely 3 bed village house, ideal for
family home, holiday or rental property.
Right in the heart of a friendly Breton
village.
Caro. Ravissante maison de 3 chambres au
cœur d'un village Breton très accueillant.
Idéale en tant que résidence principale ou
secondaire.
REF: 54996JP56
FINESTERE (29) €499,800 FAI
Lanmeur. Stunning 6 bed village house
with walled garden and outbuilding. 6 km
to the nearest beach.
Lanmeur. Magnifique maison de village
de 6 chambres avec un jardin clos et une
dépendance. A 6 km des plages.
REF: 54332PK29
CÔTES-D'ARMOR (22) €267,500 FAI
La Chapelle Neuve. Exciting opportunity.
7 bed farm house and 2 cottages in 10
acres of beautiful woodland with heated
swimming pool
La Chapelle Neuve. Une très belle opportunité : ferme rénovée
de 7 chambres, 2
maisons, des bois et une piscine chauffée.
REF: 54409TM22
FINISTERE (29) €141,700 FAI
Locmaria-Berrien. Superb 2 bed bungalow
with potential to create further living
space. Great location with secluded
gardens.
Locmaria-Berrien. Maison de 2 chambres
pouvant être agrandie. Belle situation et
jardins sans vis-à-vis.
REF: 51688SM29
CÔTES-D'ARMOR (22) €82,500 FAI
Plessala. 2 bed holiday home with scope
for further development. Delightful location with wonderful
views. 35 km to coast.
Plessala. Maison de vacances de 2 chambres pouvant
être agrandie. Belle situation
avec de magnifiques vues. A 35 km de la
côte.
REF: 54197MLG22
MORBIHAN (56) €150,420 FAI
Rochefort-en-Terre. Two adjoining houses
located in busy tourist village, ideal as
holiday lets or to be made into one large
home.
Rochefort-en-Terre. Deux maisons attenantes dans un village
animé et touristique.
Idéal pour investissement locatif ou pour
transformer en une grande maison.
REF: 45694CP56
CÔTES-D'ARMOR (22) €299,600 FAI
Perret. Superbly renovated 4 bed stone
longére with 12,539 m² of land including
woodland and stunning views across the
Quénécan forest.
Perret. Longère de 4 chambres en pierres
avec 1,3 ha de terrain partiellement boisé,
magnifiques vues sur la forêt de Quénécan.
REF: 34600DH22