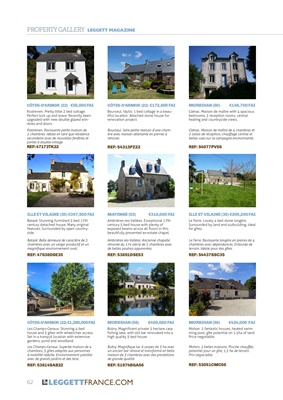 62
PROPERTY GALLERY LEGGETT MAGAZINE
CÔTES-D'ARMOR (22) €56,000 FAI
Rostrenen. Pretty little 2 bed cottage.
Perfect lock up and leave. Recently been
upgraded with new double glazed windows
and doors.
Rostrenen. Ravissante petite maison de
2 chambres. Idéale en tant que résidence
secondaire avec de nouvelles fenêtres et
portes à double-vitrage.
REF: 47173TK22
CÔTES-D'ARMOR (22) €172,800 FAI
Bourseul. Idyllic 1 bed cottage in a beautiful location. Attached stone house for
renovation project.
Bourseul. Jolie petite maison d'une chambre avec maison attenante en pierres à
rénover.
REF: 54313PZ22
MORBIHAN (56) €146,700 FAI
Glénac. Maison de maÎtre with 4 spacious
bedrooms, 2 reception rooms, central
heating and countryside views.
Glénac. Maison de maître de 4 chambres et
2 salles de réception, chauffage central et
belles vues sur la campagne environnante.
REF: 54077PV56
ILLE ET VILAINE (35) €397,500 FAI
Balazé. Stunning furnished 3 bed 17th
century detached house. Many original
features. Surrounded by open countryside.
Balazé. Belle demeure de caractère de 3
chambres avec un verger productif et un
magnifique environnement rural.
REF: 47638DSE35
MAYENNE (53) €318,000 FAI
Ambrières-les-Vallées. Exceptional 17th
century 5 bed house with plenty of
exposed beams across all floors in this
beautifully presented ex-estate chapel.
Ambrières-les-Vallées. Ancienne chapelle
rénovée du 17e siècle de 5 chambres avec
de belles poutres apparentes.
REF: 53891DSE53
ILLE ET VILAINE (35) €205,200 FAI
Le Ferre. Lovely 4 bed stone longère.
Surrounded by land and outbuilding. Ideal
for gÎtes.
Le Ferre. Ravissante longère en pierres de 4
chambres avec dépendances. Entourée de
terrain. Idéale pour des gîtes.
REF: 54437SSC35
CÔTES-D'ARMOR (22) €1,260,000 FAI
Les Champs-Geraux. Stunning 4 bed
house and 3 gîtes with wheelchair access.
Set in a tranquil location with extensive
gardens, pond and woodland.
Les Champs-Geraux. Superbe maison de 4
chambres, 3 gîtes adaptés aux personnes
à mobilité réduite. Environnement paisible
avec de grands jardins et des bois.
REF: 53814SAB22
MORBIHAN (56) €400,680 FAI
Bubry. Magnificent private 3 hectare carp
fishing lake, with old bar renovated into a
high quality 3 bed house.
Bubry. Magnifique lac à carpes de 3 ha avec
un ancien bar rénové et transformé en belle
maison de 3 chambres avec des prestations
de grande qualité.
REF: 51974BGA56
MORBIHAN (56) €424,000 FAI
Mohon. 2 fantastic houses, heated swimming pool, gîte potential on 1.5ha of
land.
Price negotiable.
Mohon. 2 belles maisons. Piscine chauffée,
potentiel pour un gîte, 1,5 ha de terrain.
Prix négociable.
REF: 53051CMC56