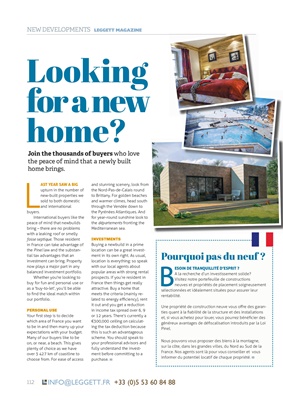 Join the thousands of buyers who love
the peace of mind that a newly built
home brings.
Looking
for a new
home?
Pourquoi pas du neuf ?
B
ESOIN DE TRANQUILLITÉ D'ESPRIT ?
A la recherche d'un investissement solide ?
Visitez notre portefeuille de constructions
neuves et propriétés de placement soigneusement
sélectionnées et idéalement situées pour assurer leur
rentabilité.
Une propriété de construction neuve vous offre des garanties quant à la fiabilité de la structure
et des installations
et, si vous achetez pour louer, vous pourrez bénéficier des
généreux avantages de défiscalisation introduits par la Loi
Pinel.
Nous pouvons vous proposer des biens à la montagne,
sur la côte, dans les grandes villes, du Nord au Sud de la
France. Nos agents sont là pour vous conseiller et vous
informer du potentiel locatif de chaque propriété.
112
NEW DEVELOPMENTS LEGGETT MAGAZINE
L
AST YEAR SAW A BIG
upturn in the number of
new-built properties we
sold to both domestic
and international
buyers.
International buyers like the
peace of mind that newbuilds
bring - there are no problems
with a leaking roof or smelly
fosse septique. Those resident
in France can take advantage of
the Pinel law and the substantial tax advantages
that an
investment can bring. Property
now plays a major part in any
balanced investment portfolio.
Whether you're looking to
buy for fun and personal use or
as a 'buy-to-let', you'll be able
to find the ideal match within
our portfolio.
PERSONAL USE
Your first step is to decide
which area of France you want
to be in and then marry up your
expectations with your budget.
Many of our buyers like to be
on, or near, a beach. This gives
plenty of choice as we have
over 3 427 km of coastline to
choose from. For ease of access
and stunning scenery, look from
the Nord-Pas-de-Calais round
to Brittany. For golden beaches
and warmer climes, head south
through the Vendée down to
the Pyrénées Atlantiques. And
for year-round sunshine look to
the départements fronting the
Mediterranean sea.
INVESTMENTS
Buying a newbuild in a prime
location can be a great investment in its own
right. As usual,
location is everything: so speak
with our local agents about
popular areas with strong rental
prospects. If you're resident in
France then things get really
attractive. Buy a home that
meets the criteria (mainly related to energy
efficiency), rent
it out and you get a reduction
in income tax spread over 6, 9
or 12 years. There's currently a
€300,000 ceiling on calculating the tax deduction because
this is such an advantageous
scheme. You should speak to
your professional advisors and
fully understand the investment before
committing to a
purchase.
info@leggett.frttp://leggett.fr" target="_blank" title="Visit leggett.fr">leggett.fr +33 (0)5 53 60 84 88